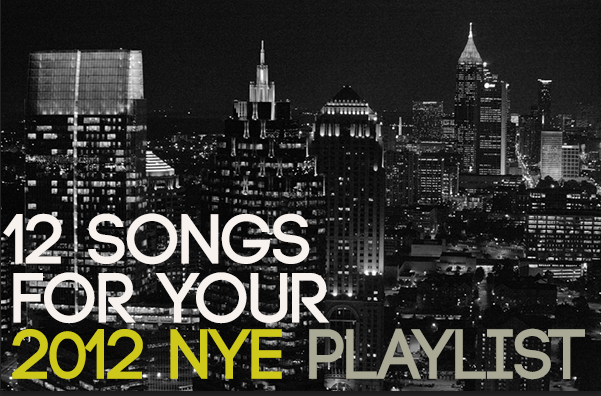 2012 is coming to an end and tonight you'll need a soundtrack to bring 2013 in with. So whether you're throwing a NYE bash, just need a playlist for your pre-game move or on the ride to the club, these are 12 songs you need to hear at least once tonight!
1. "Pour It Up" – Rihanna
Nothing makes you feel like more of a boss than being at a club or party with your crew and "Pour It Up" comes on. So whether you're actually hitting the strip club, a house party or a nightclub, you'll have to stand on somebody's sofa with this playing in the background before the night is over.
2. "2012" – J. Cole
In case you missed it on December 21st, J. Cole dropped a track he originally recorded back in 2008, titled "2012" to celebrate the world not ending like the Mayans predicted. The tempo and lyrics are the perfect backdrop for bringing in 2013.
3. "Females Welcomed" – Trinidad James
Since 2012 was the year of Trinidad James and we're sure that you'll already have "All Gold Everything" on your playlist, try throwing "Females Welcomed" in there too. Off of his debut mixtape, Don't be S.A.F.E. the techno feel at the end of the track is gonna be perfect for the end of the night where everybody's drunk and wants to do a white-girl fist pump.
4. "Celebration" – The Game ft. Lil Wayne, Tyga, Chris Brown & Wiz Khalifa
New Year's Eve is one of the biggest party nights of the year, so why wouldn't you want to hear a song with the hook, "We having a celebration/ love to stay high". It only makes sense.
5. "My Type of Party" – Dom Kennedy
Cali representer Dom Kennedy is notorious for making music that you just want to drink, smoke and have fun to so a NYE playlist without him on there just wouldn't work. "My Type of Party" was the lead single from Dom's latest project, the Yellow Album. 
6. "Young and Gettin' It" – Meek Mill ft. Kirko Bangz
It's the end of the year. You were young. You got it. So basically Meek's "Young and Gettin' It was your anthem for the year. Plus, everybody will be forced to turn up once they hear Meek Mill's voice – it's a fact.
7. "Love Sosa" – Chief Keef
We don't know if the b!tches really do Love Sosa, but they definitely love this song and a 2012 end of year playlist wouldn't be complete without some Chief Keef on there.
8. "Turn On the Lights" – Future
Even though you've probably heard this song 2.35 million times in 2012, it's the perfect song to blast on NYE. Champagne, turning on lights looking for your girl, hanging with the dope boys in the hallway?? Sounds like the average new years to us.
9. "Pop that Pu$$y" -French Montana ft. Rick Ross, Lil Wayne and Drake
We really don't have any other reason why this needs to be on your playlist, other than this probably guarantees that you'll get at least one twerk session from the girl you'll be eyeing all night.
10. "What You Mean" – Big K.R.I.T. ft. Ludacris
Krit dropped his first major label release in 2012 with Live From the Underground and one of the standout party tracks on the album was "What You Mean" featuring Ludacris. If this song doesn't at least make you do the "my feet hurt so I'm just bobbing my head with this drink in my hand" move then we don't really know what to tell you.
11. "Fu@kin' Problems" – A$AP Rocky ft. 2 Chainz, Drake & Kendrick Lamar
Do we even have to convince you to put this one on your NYE playlist? Probably not, but just in case we do, bad bitches, A$AP Rocky, a 2 Chainz hook Drake & Kendrick Lamar all on one track. You can't go wrong with that mixup.
12. "Good Kush & Alcohol" – Lil Wayne ft. Drake & Future
Mike Will being on the beat guarantees a turn-up moment and since Weezy just dropped the track two days ago and we already know it's going to be a major banger in 2013, you might as well start playing it now.
 Happy New Year's from Hip Hop Enquirer!
Follow us on Twitter: @HipHopEnquirer
Comments
comments
Category: Feature, Latest Hip Hop News, Media Gallery