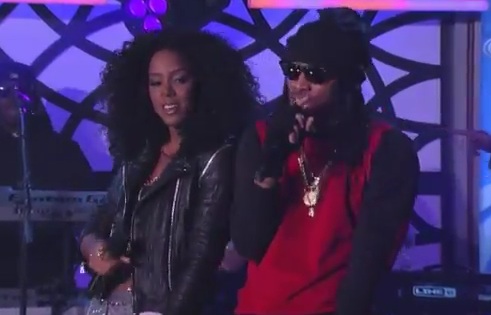 Rapper turned R&B crooner, Future hit the stage last night on Jimmy Kimmel live to perform his hits "Neva End (Remix)" featuring Kelly Rowland and his radio smash, "Turn On the Lights". Kelly Rowland joined Future to perform their collabo remix to "Neva End" and later Future performed "Turn On The Lights".
Future has been getting major shine as an artist. He was recently featured on Rihanna's album Unapologetic album on the track "Loveeeee Song". "I was in the studio making music and she called," said Future about his recent collabo with Rihanna. "She wanted me to send her music, so I sent her music. It wasn't that simple though, you gotta understand, when you're dealing with big superstars.".  "It was cool though from beginning to end that's why we made a love song", continued Future in a recent interview with Billboard.com.
Check out Future's performances on Jimmy Kimmel Live below!
 Follow us on Twitter: @HipHopEnquirer
Comments
comments
Category: Latest Hip Hop News, Media Gallery