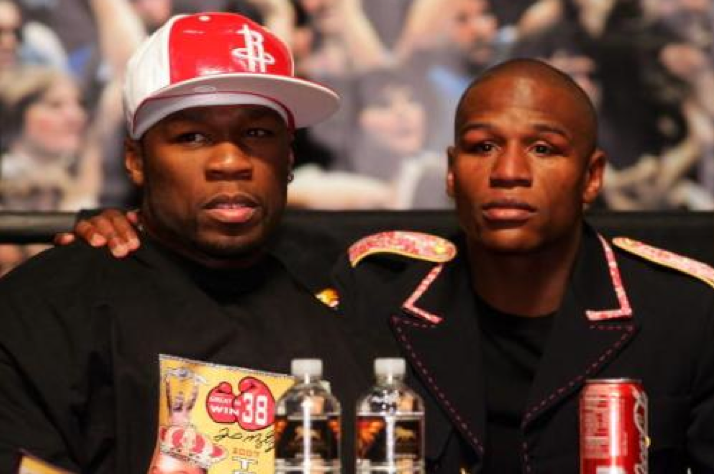 In a recent interview with radio personality Big Boy, rap mogul Curtis "50 Cent" Jackson finally reveals what some have speculated and that was that the two actually had a dispute that involved the forking over of cash that was promised in a business deal that went sour.
According to 50 Cent, Floyd Mayweather decided to back out of a joint business venture that involved the two joining forces to create a boxing promotion company. Based on their informal agreement, Jackson formed TMT promotions because as he classified it, Mayweather didn't have a structured company in place of his own and needed his guidance to get it off the ground. Check out part one of the interview below:
[kkytv id="91Pcx8b9x80″]
"[Mayweather] changed his mind…as he was actually going in to jail, he asked me to help him with Mayweather Promotions," Fif recalled. "As he actually got in and I took a look, I realized there is no Mayweather Promotions: there's no LLC, there's no seals, there's no 'incorporated'…technically, Floyd is a Golden Boy fighter [for Oscar De La Hoya's promotion firm]. He fights on every Golden Boy card, they do all the footwork…so when he says, 'Help me with Mayweather Promotions,' and it's not there, I go, 'Okay, I know what he means: he wants me to put it together for him.' So I do TMT Promotions, I get it all the way together…he comes home, and there's the, 'Let's get Floyd back in pocket' campaign that goes on, where there's $300,000 chains being bought and buying him the new Lambourghini…and I'm sitting there going, 'When are you going to give me the money?'…It's about [$2 million owed] at that point. When he finally does bring up the actual situation, he acted like he didn't know anything. Like, 'I didn't tell y'all to do that.'"
The takeaway from this interview is that with all the controversy that involves 50 Cent, he is probably one of the smartest business men in hip hop but he probably shouldn't have done business with his friend.
Hip Hop Enquirer Magazine | Follow us on twitter@hiphopenquirer
Comments
comments
Category: Interviews, Latest Hip Hop News, Media Gallery, Talk of the Town