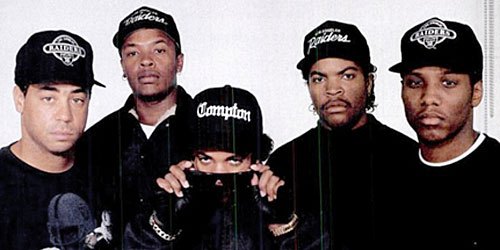 The N.W.A. biopic 'Straight Outta Compton' opened to a wide theater release this weekend and has the country buzzing in a good way. The movie is fantastic and transcends labels, it is not simply a black film. To tell this story with a global appeal had to be difficult as the acronym for the group stands for Niggaz With Attitude. Yet, the issues that Compton rap group went through are still N.W.A., as in they never went away. The film touches on the ugliness of the music businesses, promiscuous behavior, the gang culture of southern California with the most dangerous gang being the Los Angeles Police Department.
Eric "Eazy-E" Wright, Andre "Dr. Dre" Young, O'Shea "Ice Cube" Jackson, Lorenzo '"MC Ren" Patterson and Antoine "DJ Yella" Carraby are N.W.A. All five were casted perfectly, played by Jason Mitchell, Corey Hawkins, O'Shea Jackson Jr., Aldis Hodge, and Neil Brown Jr. respectively. The film begins by showing their lives prior to rap stardom in Compton, California as teens. Eazy is gang banging and involved with drug dealing, while Cube and Dre are just some talented kids trying make in the music business with a brash style and hard lyrics that was not the norm. MC Ren also is in the streets as he is introduced as knowing Easy already with both being Crip members and Yella is shown to been a DJ working the same nightclub as Dr. Dre was.
Seeing how these five come from different backgrounds but still share the same life experiences. The LAPD constantly harass and unlawfully detain and arrest the members either as a group or in individual moments throughout the movie. Something that translates into 2015 with ease as we have been able to see these situations unfold thanks to social media and cellphone technology. Any minority that has ever run in with the police probably has a horror story, or at least knows about someone who does. Seeing the harassment of the group on film not just physically but verbally is still a tough pill to swallow, no matter how accustomed we may have become to it.
Regardless, N.W.A. still pushes forward to make it big and become the biggest thing in music. At the time gangsta rap was non-existent. Their lyrics are scrutinized, to a degree rightfully so, no one wants to take a chance on them except one man named Jerry Heller. Of course, Heller's true interest are his personal pockets as he hands Eazy-E shady contracts while the rest of the group are basically working for free. Ice Cube is the first to notice something is not right. In one of the more memorable scenes, while on the N.W.A. tour, Cube is eating a burger and soda while witnessing Eazy and Jerry Heller drinking champagne and eating lobster. Showing the backdoor politics of the music businesses and the group went from dealing with overt and institutional racism to more subtle racism.
Comments
comments
Pages: 1 2
Category: Feature, Latest Hip Hop News, Media Gallery, Movie Review, Movies, Talk of the Town