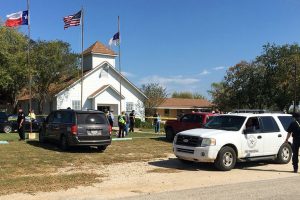 Tragedy has hit the state of Texas once again, a gunman walked into a small Baptist church in rural Texas on Sunday and opened fire, killing at least 25 people.
Representative Henry Cuellar of Texas confirmed the death toll, which has steadily increased throughout the day after the shooting at the First Baptist Church of Sutherland Springs.
Albert Gamez Jr., another Wilson County commissioner, told CNN that he was told by an emergency medical technician that 27 people were dead and 24 others were injured. He said he was told by the police that the gunman was chased into the next county and was killed, but it was not clear whether the police shot him or he killed himself.
Mr. Gamez said the victims were still inside the church. Sutherland Springs is a small community where everyone knows one another, he said. "You never expect something like this. My heart is broken."
The unincorporated community has a population that numbers in the low hundreds — the 2000 census was 362, according to the Texas State Historical Association. The preliminary death toll would amount to about 7 percent of the population. 
Megan Posey, a spokeswoman for Connally Memorial Medical Center in Floresville, Tex., said that she did not know exactly how many patients the hospital had received, but that it was continuing to receive more.
The hospital has activated its emergency response team, she said. Information about the conditions of patients was not immediately available.
Gov. Greg Abbott of Texas said on Twitter: "Our prayers are with all who were harmed by this evil act. Our thanks to law enforcement for their response."
Ken Paxton, the attorney general of Texas, said in a statement: "The thoughts and prayers of all Texans are with the people of Sutherland Springs as tragic reports come out of First Baptist Church. My office stands ready to assist local law enforcement as needed."
On Facebook, a user described the church: "It is such a warm and welcoming church that is truly filled with the Holy Spirit and shows real Christian love and friendship."
Story still developing.
Comments
comments
Category: Breaking News, Crime Stories, Latest Hip Hop News, Legal, Media Gallery