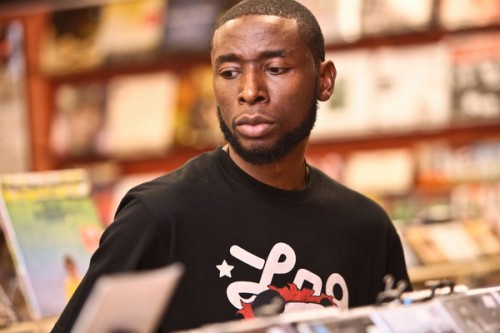 Hip Hop can't do anything but salute the genius, Grammy award winning 9th Wonder on his quest to shed necessary light on the culture of hip hop from its birth. The Harvard Fellow answered some interesting questions over at Hip Hop DX, which are sure to enlighten hip hop fans about the origins of the culture.
There was an interesting discussion sparked on the difference between music produced before and after 1995, and the former Little Brother member gave pure professional wisdom on the subject.
9th Wonder explained the production term "bottom", which refers to a sound that was created pre-1995, featuring bass drums or thick base lines.
Pre-1995, everything was all about the bottom; all about having the boom behind it," said 9th. "It was more than just the 808s. Early 1980s and mid-1980s music was mastered way louder. If you listened to 'It's Like That' by Run-DMC, the whole record is really turned up as opposed to how it's mastered [now]. But it's not as kicking and hitting as hard as those old Run-DMC breaks.
9th was accepted last year (March 2012) into Harvard University's prestigious Harvard Fellows program, where he will teach a history class on Hip Hop including a research project entitled "These Are the Breaks". Students will be asked to take close looks at original records that are sampled on 9th Wonder's ten favorite albums. Some of the albums include Nas's Illmatic and Jay-Z's The Blueprint.
This is what 9th Wonder had to say about the higher education's lack of embrace of the Hip Hop culture:
It's incredible to me that they don't study [Hip Hop] at every Black college. I think that it's just a sign of the times, man. It happened with Jazz. Jazz was studied somewhere else first. African-American studies was studied somewhere else first. At some point we have to break that cycle. There are some: Florida A&M, North Carolina A&T State University. And then you have some that don't want that because they think that we're gonna teach about what happened on BET last night.
He continued:
We try at our historically Black colleges to make those strides and be first at things and be frontrunners but it's tough because you're dealing with three generations of people. You're dealing with us: The 38-year olds. Then you're dealing with the 18-year olds and then you're dealing with the 60-year olds who run these colleges. All of that together is a tough communication to get going. 
Tonight, 9th Wonder will present a piece of his "95 Live" project, created by his fellow Universal Zulu Nation member, Roman Castro. Under Castro's approval, 9th has extended the UZN brand into a bi-monthly party held in North Carolina. Some of his previous guests include: DJ Premier, Erykah Badu, and others.
Check out this 9th Wonder and Buckshot "The Change Up" video :
Hip Hop Enquirer Magazine | Follow us @hiphopenquirer
Comments
comments
Category: Latest Hip Hop News, Media Gallery