What can one expect from a Grammy winner and legendary superstar singer from Usher Raymond? I can tell you what they'd expect. They'd expect a 34th Birthday Celebration fit for a King. That is exactly what Usher brought to London – a party with friends in high places. The very beautiful Leona Lewis, talented English rapper Dizzie Rascal, and even Tinie Tempah attended the party. Usher Raymond even topped his birthday celebration off with having dinner with leading Hollywood actor, Tom Cruise.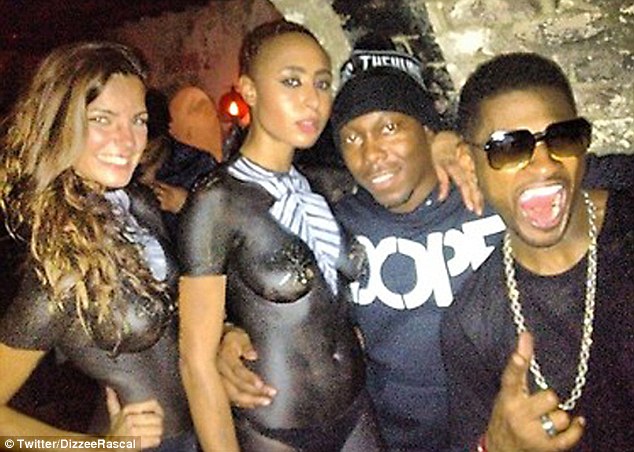 The talented U.S singer took it upon himself to invite up a variety of British artists to London's La Bodega Negra, for a delicious meal and entertainment from acrobatic dancers.
Camera men in the United Kingdom caught photos showing that Leona Lewis, 27, was overly pleased with the dance performance as well as the restaurant's cuisine. The "Bleeding Love" hit maker wore her favorite trend of a baby doll bright pink shade of lipstick and her hair pulled up in a very high ponytail. She wore a matching quilted handbag paired with a long beige trench coat.
Moments later, Usher was escorted from the restaurant by a male bodyguard. The young King of R&B wore all black – jeans, black t-shirt, and a leather jacket. In addition, he topped off his casual urban appearance wearing thick framed black shades along with a thick silver chain. Clearly, the photos presented pure birthday bliss, as Usher left the restaurant.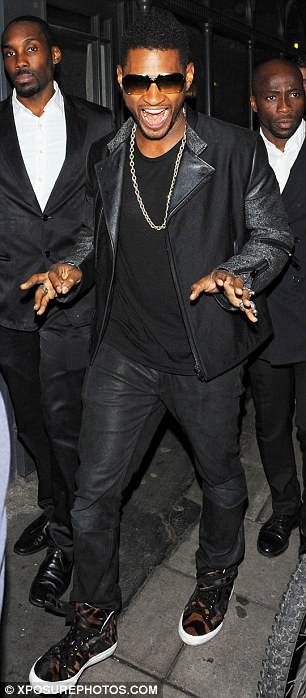 Meanwhile on twitter, English rapper Dizzie Rascal, shared a picture of himself cuddling two women, who were covered in black body paint. "Me and a couple birds n @UsherRaymondIv at his birthday bash. #London #bodypaint #RNBswag" – was his picture description.

Tinie Tempah also shared his party fun photos on twitter – with the following tweet – "This is what dinner in London with @UsherraymondIV looks like… Big up my brother."
Last but not least, Ortise' Williams shared his moments with Usher on twitter writing: "Happy Birthday @UsherraymondIV ! Thank you for your words of wisdom! X"
A night of pure music royalty, great laughs, entertainment, dancing and friends is what seemed to be displayed on Usher's birthday night.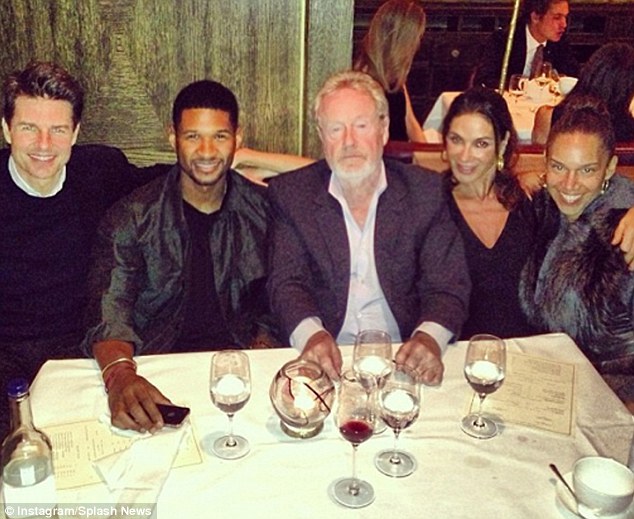 Usher and his entourage looked to have ordered a sample of everything on the menu. Usher posted a photo of the feast on twitter and captioned it "My birthday dinner!!!" (Shown above) The full course meal didn't slow the dancing songbird down too much. He headed off to Earls Court, to watch George Michael perform as a finale.
Hip Hop Enquirer Magazine | Follow us on twitter @hiphopenquirer
Comments
comments
Category: Latest Hip Hop News, Media Gallery, Talk of the Town