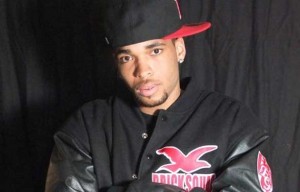 It's hard to grasp the concept of "one day you're here then the next day you're gone" until someone close to you actually leaves this world.  Those in the circle of Slim Dunkin have to cope with that concept for the rest of their days. Airwaves and online publications have been ablaze with the news of the 24 year old rapper's death in an Atlanta studio Friday evening. Here at HHE we would like to highlight the musical talent this young man was blessed with.
Dunkin was a polarizing figure. Standing at 6-8 along the 6-4 Waka Flocka Flame, the two were known as the Twin Towers (Hence the name of the mixtape series).
"I don't have amazing lyrical ability I just know how to speak on what I been through and where I came from," he said. Asked what to expect from him in 2011, he responded: "Music, music, and music!"
Slim lacked the lyrical ability that hip hop heads fiend for, but his delivery and honesty along with his graphic stories landed him in the on deck circle for the Bricksquad imprint.  He gained attention when the first Twin Towers tape was released with DJ Ace featuring "Same S***" which spread through the streets and clubs instantly. Between Oj Da Juiceman falling back from music and Waka Flocka becoming internationally successful, Slim made it his duty to be one of the premier artists in 2012. He was on his way.
Those close to Slim said he was dedicated to becoming successful, and hoped to make everyone around him proud to be affiliated with his movement. With that said, we have to take a look into the reality of violence and its relationship to music. True, this was not a publicized beef with another rapper, but a young man who had the opportunity to influence and reach lot of people but ultimately ended up losing his life. The lyrics rappers released from their songs don't always implement their lifestyle, though in this case Slim's did. While artists that live their lyrics are a rare commodity in modern day hip hop, there is a plethora of artists who act like like Slim Dunkin through a fantasy world. The only lesson that can be learned through this accident for upcoming artists is that the music you make should be the life you live. The only problem with that lesson is when your music and your life cross paths hopefully it never ends like it did for Slim Dunkin. HHE shares their thoughts and prayers with Slim Dunkin's friends and family.
 Follow us on Twitter at @HipHopEnqMag and @Alex HHE to give us your thoughts.
Comments
comments
Category: Latest Hip Hop News, Talk of the Town