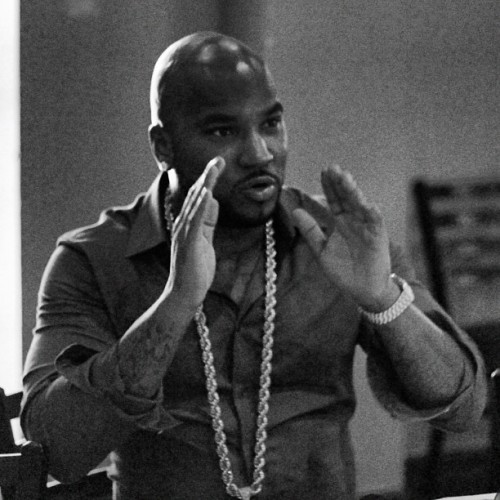 In the follow-up to the coverage of Jeezy's interview with Dr. Lamont Hill, Jeezy speaks on his mentors coming up and now. As well as his talk with Minister Farrakhan, what he said to him after his most recent arrest and Big Meech.
Jeezy was recalling a time that him and Jay-Z were watching 'Gangland' in the back of a Maybach. It appeared Jeezy was on the episode that they were watching, fortunately his face was blurred and that is when Jay told him he was lucky, a word Jeezy had never had placed on him before.
Hill asks if he considers Hov a mentor and who else helps him navigate in life.
Of course, I like people with their own state of mind. Everybody from Farrakhan, I think Jay-Z is great at what he does. Some of the cats around here that are just great businessmen…when you see someone being successful at something they love, you can't knock that man. They had an idea and saw it all the way through.
Hill followed up asking about the relationship with Minister Farrakhan and how that could affect his standing with some of the higher executives in music.
One thing about that we get our own money so we ain't worried about that. Farrakhan is a great guy, I had an incident and Farrakhan called me about 4 or 5 days before the incident, he said 'Brother Jeezy, I like your message you're sounding real smart in your interviews but I just want you to know the enemy is watching you…I said I'm good, I'm a street dude with good credit and be damned if a week later I was in jail for something I didn't do… I was put in the situation cause of my name and they just brought me back to this nigga status overnight.
He also would go on to tell the story of his first unselfish moment. When he was in the cell his employees were coming to bail him out right now, but his bail was a million which was the same as his bus crew's.
I looked around and said, 'Man I can't leave these people in here, I can't do that they work too hard for me year round, if it weren't for them I wouldn't be here. So I sat there for about a week and half getting everything in order to get everybody out cause they wanted property…I got acquitted y'all didn't nothing about that shit but as soon as I got out the county…I got in the car my guy gave me the phone and it was Farrakhan, 'Brother Jeezy I told you the enemy'…
Dr. Hill asks how much of the amount of hip hop artists that get arrested is linked to them being watched by surveillance to which Jeezy could not speak on because the people in his real circle are doing real time as he brings up Big Meech's 30 year jail sentencing for drug trafficking and money laundering.
I got real friends that really risked their lives to take care of their loved ones. When you talking to someone that got 30 years of prison [Big Meech], it's a different thing brother. He sitting like how you and me sitting but he can't leave for 30 years. So I don't know what the rappers do they rap about it, they talk about it. I'm talking about the cats that sit there everyday, doing hard time , with a heart of gold and did so many things for people that you wouldn't believe.
It is a wonderful perspective to keep in mind, that helps Jeezy keep a grounded and true grip on the crazy world he lives in as a successful and recognizable figure in hip hop.
Follow us on twitter@hiphopenquirer
Comments
comments
Category: Interviews, Latest Hip Hop News, Media Gallery, Videos