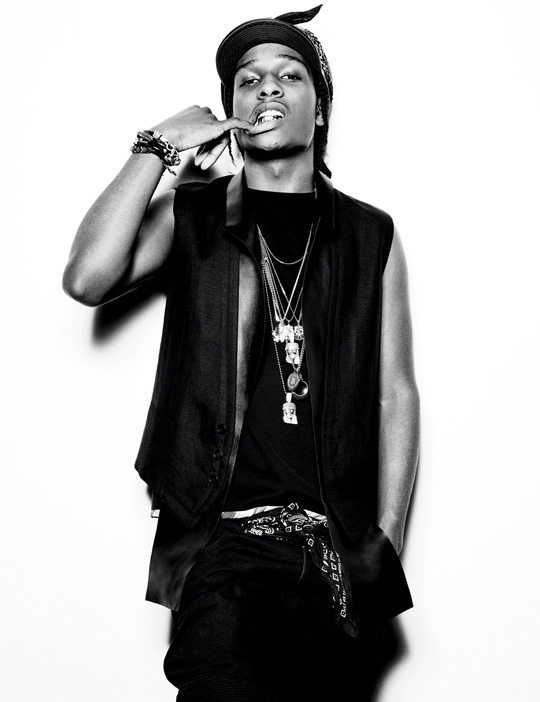 Tell 'em how you feel A$AP! As of right now the Harlem rapper has a collection of ASAP branded tees and hats sold exclusively on KarmaLoop.com but in a recent interview with Hip Hop Wired, the Harlem rapper who happens to be quite the fashionista, was asked if he ever sees himself starting an actual clothing line. His response: "that sh!t corny". The 25-year old rapper continued on:
"I might collab with designers, but that sh-t corny. When rappers be doing that clothing line sh-t, that sh-t be corny man. That's a slow reality show. Ya know how reality shows wash ni–as up. I feel that clothing line sh-t is just a slower reality show. That sh-t corny man". 

A$AP also compared wannabe rappers to wannabe fashion designers:
"I'm not no fashion designer.  Just 'cause I got good taste don't mean that I know how to create it. I feel that's disrespectful. It's just like record labels and sh-t. Just cause motherf-ckers know Hip-Hop doesn't mean you know how to create it motherf-cker. Just cause you know it, don't mean you know how to create it."
The self-proclaimed "Pretty Motherf@ker" wrapped up his rant with this:
"I know brands well, I'm not a fashion designer… It's more to fashion than just fabrics and stencils. You gotta learn how to draw, you gotta know how colorways work and materials, it's hard man… Hood clothing lines…I refuse man. I refuse. I'm good on that."
So it's definitely safe to say that  A$AP won't be joining the likes of Jay Z, Diddy, Nelly and more who stepped from behind the mic and into the sewing room. Check out A$AP's interview with Complex below where he talked fashion along with designer, Jeremy Scott.
 Follow us on Twitter: @HipHopEnquirer
Comments
comments
Category: Latest Hip Hop News