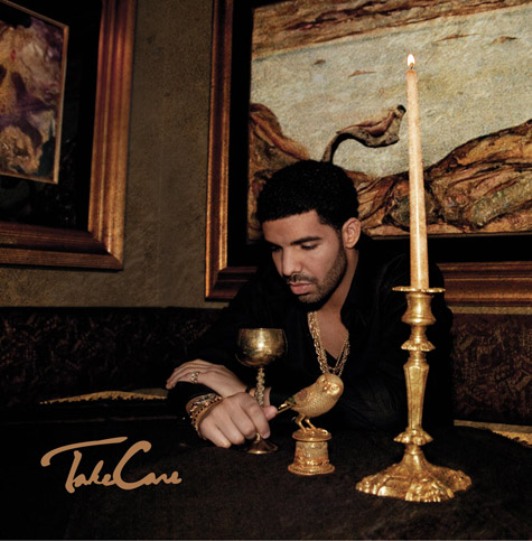 Lyrics B+ Beats A- Flow B+ Originality B- Grade B+
October's very own Aubrey "Drake" Graham has returned,  narrating intoxicated confessions of a hip hop superstar with newly found flows.  Toronto's prize child spends the majority of his second solo album Take Care speaking on female situations, social perspective, and money. Hoping to capitalize on his 2009 debut 'Thank Me Later"  Drake  has grown into his own artist. He has finally separated  himself from the predictable Young Money/Cash Money  canopy that has been over his head since he entered the game back in 2007.   Being an emotional rapper , fans have been anticipating how this album would feel since its first leak. Take Care has a soft and deep lyrical vibe; in Drake's defense that seems to be the unique vibe he was looking for. The lyrical content is similar to Kid Cudi's Man on The Moon series in that Drake's lyrics are confident and honest when describing his personal traits. Desptie the comparison's Drake's lines are wittier and more sophisticated. Production wise, Take Care  is opposite of how most  hip hop albums sound thanks to Drake's  right hand man Noah "40" Shebib.  The sonic vibe of the album is a trendy sound resembling Kanye West's 808 and Heartbreaks.  The production team blends piano keys, dark synths, and drowned percussion, producing a mix between the  drunken funk of Houston's UGK  and melodys from the 90's r&b wave . (See Undergound Kings and Camera/Good ones Go Interlude)  The singles "Headlines" and "Make Me Proud"  do not give a fair perception of the album at all.
 [kkytv id="cimoNqiulUE"]
Unlike his debut effort,  Take Care  feels more like an album instead of a feature heavy mixtape. Each guest appearance is appropriate beginning with "Crew Love" with fellow Toronto prodigy The Weeknd. Taking notes from the atmospheric music The Weekend makes, Drake puts his own spin on this tale of women relations with the clique. "Take Care" with Rihanna is catchy as expected and  soon to be an anthem for couples.  If the listener is single the lyrics might be hard to listen to. "You won't ever have to worry/ You won't ever have to hide if you seen all my mistakes /so look me in my eyes. [rihanna] Cause if you let me/ here's what i'll do/ I'll take care of you/ I've loved and i've lost."  The typical Rick Ross feature arrives on "Lords Knows".  The soul and choir vocals that  Just Blaze uses resemble the epic production of The Blueprint. Fans who have never listend to Jay-Z might believe this beat is one of the best they have ever heard. Drake defends his crown as the 25 and under favorite with lyrics deep enough to provoke thoughts yet shallow enough to understand before the next bar.  When Drake spits" I'm hearing all of the jokes/ I know that they tryna push me/ I know that showin' emotion don't ever mean I'm a pussy/ Know that I don't make music for niggas who don't get pussy/ So those are the ones I count on to diss me or overlook me"  he  replies to other rappers who  go on record saying Drake's music only relates to women.  This is the Drake that could be a problem for years to come.
 The latter part of Take Care reiterates the emotional roller coaster Drake takes criticism for. On "The Real Her' Drake describes the qualities of a woman he favors in detail using a real-life situation as an example.  This has Young Money CEO Lil Wayne written all over it as he brings in the second verse using his scratchy vocals and seductive lyrics to get his point across.  The brain boggling Andre 3000 spits his verse while rapping incredibly witty punchlines  "Now the both of us are colorblind/ Cause the other side looks greener/ Which leaves your turf in the Boise state/ Can't see her play or the team".  (Boise State has a blue field so you can't see their jerseys).  To his benefit, Drake reaches the topic of family reaching out to his mom using her voice at the end of  "Look What You've Done". Most artists touch this topic on a lighter level while on some occasions, rappers such as Drake, go  in-depth leaving the listener in tears. On this track the piano narrated by his mother's voice is simply revolutionary.
There is no doubt that Take Care is a refreshing and elite effort but Drake's lyrical ability can be described as upper middle class at best. In comparison to some of the greats who don't write lyrics at all, Drake should have out shined them being an award writing songwriter. Although he tries to make music that relates to his fans,  his content revolves around his personal life more than it needs to. Drake shows how slick he is in coming up with unique ways to re-create instead of simply creating. Although the repetitive lyrics from previous songs are the downfall of the album, they are overshadowed by the catchy choruses and acronyms like "Y.O.L.O. (You Only Live Once)". On a positive note, the production took care of  this album. If Take Care were re-released,  there would be an instrumental version before an a cappella one to say the least.  The unique vibe mentioned previously is something that  hip hop needs on a mainstream level so thanking Drake for that is necessary. Drake's genius is often overlooked. Negatives of the album discussed in public can be made positives once giving it the bedroom exam. It will take a few listens before  Take Care  gets the justice it deserves.
Follow us on Twitter: @HipHopEnqMag and @Alex_HHE to give us your thoughts.
Comments
comments
Category: Album Review, Reviews