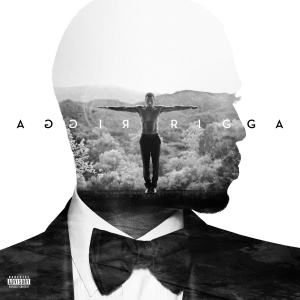 Trey Song's 6th studio album "Trigga" was released July 1st of this year and still has a buzz over its many hits. "Mr. Steal Yo Girl" collabs with several artists including Nicki Minaj, Juicy J, Justin Bieber, Mila J, Ty Dolla $ign and more giving a variety of sensations from his lover to mistresses. It's nothing unexpected for Trey Songz to reveal desires to sleep with women he shouldn't while crying out to be taken back by his lover. The different tones of the vocalist's voice provides an infatuated feel of pillow talk
One of the album's hits include "NaNa," the first single debuted from his album. The song deals with being sexually teased as Songz warn his lover what she has gotten herself into. The track currently spent about 28 weeks on Billboard's Top 100 and is number 21 as of this week. The Teena Marie inspired song is still one of iTunes's most popular sold singles to this day.
Another popular hit, "Smartphones" the 10th track on the deluxe album, Trey uses a high tune to accentuate the pain in refusing to say goodbye. He brings to life the situation of preparing what to say after he is caught cheating.  The piano playing as he sings his angelic sound arouses many emotions allowing his lyrics to touch souls. The single has been moving fasts on Billboard and radio charts since the 6 weeks it has been a hit.
Much of today's music is inspired by legends. Trey Songz and Nicki Minaj sample Biggie's "F*cking You Tonight" with the single "Touching, Loving." The poly sound brings a more pop sense to the song than the soft old school sound. Nicki Minaj is known for hopping on tracks with a wilderness sound featuring her explicit lyrics. After recording the song, Trey reported to MTV that he send an old-fashioned thank you note and dozen roses to Nicki Minaj. As the single rises on charts, will we soon expect a video from the two?
Many other popular singles from the album include "Foreign" (remix) featuring Justin Beiber, the first track "Cake," "Yes, No, Maybe" and "What's Best For You." Really the entire album rides from "Cake" to "Mr. Steal Yo Girl."
Here's the full track list for the deluxe album
1) Cake
2) Foreign
3)Nana
4) Touchin, Lovin (feat. Nicki Minaj)
5) Disrespectful (feat. Mila J)
6) Dead Wrong (feat. Ty Dolla $ign)
7) All We Do
8) Foreign Remix (feat. Justin Beiber)
9) Late Night (feat Juicy J)
10) Smartphones
11) Yes, No, Maybe
12) Y.A.S.
13) Change Your Mind
14) What's Best For You
15) Love Around The World
16) I Know (Can't Get Back)
17) Mr. Steal Yo Girl
Follow Us on Twitter @HipHopEnquirer
Comments
comments
Category: Album Review, Music