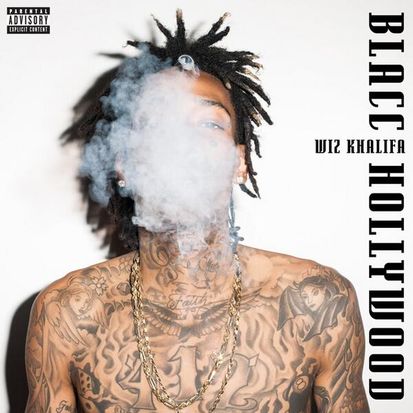 "Blacc Hollywood" standing out by it's spelling, released in mid August of this year. Wiz Khalifa poses on the album cover as if he's taking a mug shot. Smoke covers majority of his face and his chain hangs across his tats. He is Blacc Hollywood, which he proclaimed on the intro track "Hope" feat Chevy Woodz and Ty Dolla $ign. Other artist features include Nicki Minaj, Snoop Dogg, Project Pat, Juicy J, and Ghost Loft. Producers ID Lab, Sledgren, Detail, Jim Jonsin, Finatik N Zac, and many more. A few hit singles include "We Dem Boys," "True Colors" feat Nicki Minaj, "KK" featuring 3, 6 Mafia artists Juicy J & Project Pat, and "A$$ Drop."
When it comes to his recordings, Wiz raps from two personas. On his mixtape releases he's more of a trap artist, he's pretty much chilling with his boys rolling doobies up. His most recent mixtape "28 Gramz" he gives a taste of the "Kush and OG," "Cabin Fever" days. But on his albums, he speaks from a more mature perspective and gives more variation on his tracks. Just as his last album "O.N.I.F.C," if you're trying to turn up, smoke good, and be inspired for greatness you should definitely cop the "Blacc Hollywood" album. Here's the album review by tracklist below.
1) "Hope" FT. Chevy Woods & Ty Dolla $ign
Prod ID Labs & Ned Cameron
Chevy Woodz opens up the album with philosophical words of living. His speech is more-so directed towards Wiz Khalifa, praising him for reaching his peak yet Chevy also speaks on destiny, authenticity, and the overall "being" people seek from birth. Switching up the song's tone, Wiz & Ty Dolla $ign warns guys what females are all about. This pretty much sets the aura for the entire album. You gotta respect his talent and persistence. The only way you'll make it through "Blacc Hollywood."
"Hope you've got thousands in your pockets cause she ain't lookin for love," Wiz says in the hook.
2) "We Dem Boyz"
Prod by Detail
The first single release from the album. If you don't know already Taylor Gang are the head hunchos. "We Dem Boyz," defined by Blacc Hollywood and the urban hip-hop community. "We making noise," he also says in the hook. Their name has a huge buzz in the streets and they've been dominating for years. Wiz's adlibs and the frequent pauses in the beat puts much emphasize to every line he spits. From the finest women to the nicest cars, the top dawg crew is on. He also has an official video for the track.
3) "Promises"
Prod by Jim Jonsin
Wiz wants to get caught up in the moment of love. He let's everyone into his sap side with his metaphors of sweet, passionate love-making. It's hilarious how Wiz relates their intimacy to weed. "Smoking one and rolling one, I come break you down for fun." Besides the sex, he wants his lover keep the promises of love and trust that they've vowed from the beginning. He doesn't want Amber Rose to anybody but himself, whether he's at home or on tour.
4) KK feat. Juicy J & Project Pat
Prod by Finatik N Zac & Jim Jonsin
"Is this the top," Wiz says in the intro. That statement could go both ways inferring cloud 9 or his career status. "KK" is the term for the narcotic he intakes in his lung. Cali native says his hometown has the best weed. The turn up legends Juicy J & Project Pat feature on the track with hilarious lyrics. Juicy J says "I got KK in my pipe, pockets fat like Kelly Price." Stamped by the 3 young stoners basically Kalifa Kush (KK) is where it's at.
5) "House in the Hills" feat. Currency
Prod by Sledgren & ID Lab
The hypnotic sound is very housewarming but Wiz contradicts it a bit with his lyrics. He goes hard about how the media spotlights the negative but never showcase the positive. Especially when it comes to black celebrities. Both Wiz & Currency, moguls of the rap game, wants people to know that they've made their dream will. The power is within oneself and all it takes is focus and hard work.
6) "A$$ Drop"
Prod Fanatic N Zac
Amber Rose posted a video to Instagram moving her butt cheeks as the beat staggers in the intro. Wiz switches up the flow each time he goes into the hook but that still doesn't stop females from shaking that a$$. When the bass drops all you hear is "GOT DAMN…GOD DAMN, how the hell you get all that a$$ in them pants," as if he's appalled by the woman's curves. Wiz may rap about drugs but don't underestimate him when it comes to making music for females.
7) Raw
Prod RMB Justize & Sledgren
The avid smoker has a national line of rolling papers called "Raw" in which rolls his "Kalifa Kush." "Take that OG kush put it in a raw." I guess you can say Wiz "went hard" on the track displaying real sense of hip-hop. According to him, he's pretty much "raw" all around. The dopest thing since Chuck Taylors. Peep the references he makes to other artists in his lyrics.
8) Staying Out All Night
Prod Dr. Luke
Gone off the KK and liquor it seems like Wiz is gonna need a designated driver or somewhere to crash for the night. All he wanna do is free his mind and have a good time. He's young and not looking for love. Dr. Luke created the perfect mellow sound for those transcending into cloud 9.
9) The Sleaze
prod by Arthur McArthur
Throughout his verses he brags about how everything comes to him so easy. That's the benefit of running the game so long. He makes references to Mr. T and Diddy comparing himself to their prestige. You can't expect the hottest rapper not to have the newest whips for his showcase style garage. He is his own entrepreneur and no other clique goes harder than Taylor Gang. In the song's outro he aggressively emphasizes why they are the new young bosses.
10) So high FT. Ghost Loft
Prod by Ghost Loft & Stargate
"High up and we're floating.
Night until the Moanin
We're floatin, floatin, floatin"
The vibe allows your mind to unleash its wings. He relates the narcotic effects to numerous wind blowing extremes. The "uh-huh" repeated after each line makes it catchy. Expect Wiz to get so high and smoke anywhere beyond measures. Burning good weed from the morning til dawn the THC just takes over. Since he is the one that put listeners onto stoner music best believes he smokes only the best.
11) Still Down
FT. ChevyWoods & Ty Dolla $ign
Produced by: ID Labs
Don't expect Wiz to kick it with nobody that's not in his crew (Taylor Gang). Best believe everyone that's been there from day one is still down. And that's what's real. Chevy Woods, member of TG, raps about how others try to imitate their image whom of course fail miserably. TG has the best fashion, flyest cars, and highest rank in the game. As far as he can see it, his team is the only one eating. Outsiders could only wish to have their prestige. Ty Dolla $ign's voice on the hook perfectly accents the point of staying down.
12) No Gain
Prod by ID Labs
Rambling off in the beginning, Wiz expresses the ins and outs of hard work. You can hear pages flip as if he's reading from a personal writing. Although it's cliche to say "no pain no gain" it's really the major component to reaching pennicles. He doesn't go hard for just himself, he does it for Taylor Gang, his family, and anyone else he can reach through his words. There are many more gates he plans to enter besides "Blacc Hollywood." The "top" just isn't enough.
13) True Colors feat. Nicki Minaj
Wiz hits quite a few high pitched tunes in his verses. The song features "Miss Anaconda," Nicki Minaj, who is also a star of Blacc Hollywood. Taylor Gang and YMCMB are two of the largest music entities in the game. Both veterans have experienced the real and fake yet uses actual colors as similes. Wiz's true colors are green (money) and his whip's white on white. Having albums titled "Pink Friday" and "Pink Print" the female lyricist's true color is pink.
14) We Dem Boyz (Remix) feat. Nas, Rick Ross, & Schoolboy Q.
A totally different flow from the original track. You heard more of an acoustic guitar and several different loops. Wiz's voice on the hook sounds more echoed and he told the tune much longer. "Them Boyz" include legendary Nas, Rick Ross the boss, and TDE artist Schoolboy Q. The guys all share one thing in common, they've started from the bottom and now they're "makng noise."  It's cool how they each are from different hoods with various perspectives of their ambition. Wiz features these artists to show that no burden is unbearable. Your destiny is what you make it. If you haven't got it figured out by the 14th track of the song you definitely should re-evaluate your ego.
15) You And Your Friends feat. Ty Dolla $ign & Snoop Dogg
Prod by DJ Mustard
As the sound fades in it's like the three are soaring into the club. DJ Mustard lays an airplane drop before Ty Dolla $ign hops on the hook. They're trying to leave with a girl and her friends. Leave it to triple OG Snoop Dogg he is well known for snagging the baddest chicks and bringing a old school feel to a new song. The Cali artists were perfect for the collab since they're known to make hits for the ladies. Ty Dolla $ign makes the hook stand out giving an upbeat R.Kelly sound to the track. All it takes is a couple of bottles and some rollies and several chicks will get snatched up.
Prod by J.Mike, Kane Beatz, Luca Polizzi, & Order
Overall, do not underestimate Cameron Thomas. He has a network of $20 million, created successful artists under Taylor Gang, and is married to the beautiful Amber Rose. His image is always demised and underrated when mentioning his success. Yes he's a smoker but that's irrelevant to his innovation. Society shows very little respect to hip-hop culture. Throughout the entire album Wiz enforces that respect is earned not given. He wants fans to know that nothing comes easy. All you've got to do is keep your eyes on the prize. By the end of the album one should be able to rejoice in self luxury that has been created. And also to emphasize never stop working, falling off is the hardest pain after being a slave to fulfilling your dreams.
Follow Us On Twitter @HipHopEnquirer
Comments
comments
Category: Album Review, Music, Reviews