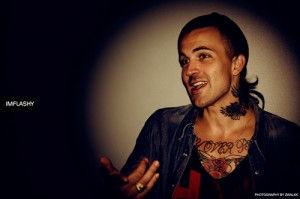 Lyrics B+ Beats B+ Flow A- Originality A- Overall Grade B+
The past couple of years have been busy for Gadsden, Alabama's only white rapper.  In late 2009, with the release of his critically acclaimed mixtape Trunk Muzik, Yelawolf created a buzz that raised eyebrows in the industry. First came the request for features, then a few cameos in some videos, finally there was the cypher at the BET awards. Yela cemented his name as one of the artists to be watched in 2010. Wasting no time, Shady Records CEO/Interscope records exec Eminem snatched Yelawolf as soon as he could.  2011 was his busiest year yet, opening for Wiz Khalifa on his Wake & Bake Tour while recording his debut album Radioactive ending the year on a good note.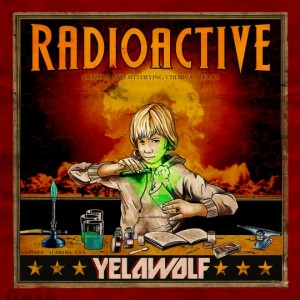 Many were wondering which direction Yelawolf was going to go in for his first mainstream album release. To the benefit of his fans, he stayed at home with his country roots while flirting with original production from WiLLPower.  The intro, "Radioactive", begins with a simulated warning about Nuclear Bombs launched from North Korea that will hit New York, Orlando, and Las Vegas (all of which are locations where he recorded).  The beat sounds like the listener is in the lab featured on the cover, watching Yelawolf cook up the rest of the album. On "Get Away" the album begins to roll simultaneously with the flows of  Yelawollf , Shawty Fatt and surprisingly Mystikal.  Yela's chorus, assisted by high pitched chords are relaxing, while fitting his Alabama style at the same time. The features on Radioactive might come off as random but the fact is, only a handful of rappers can flow with Yelawolf bar for bar.  The majority of the first few tracks need  play from a respectable sound system to fully gain a perspective of how the album sounds; "Hard White" ft Lil Jon  and "Lets Roll" ft. Kid Rock.
Radioactive takes a more provocative turn as the listener arrives at "Throw It Up"  featuring Gangsta Boo and Eminem. The best flow on the track is up for debate, while the production has the southern bass line/piano combo allowing all of the artists to rip it in their own respective way. Although skits come as a privilege for listeners on albums these days,  Eminem and Yela put on a show at the end of their collab as Em sarcastically persuades Yela to make a love song for women. Funny. On "Animal" the production by Diplo follows the dub-step wave that rappers such as Kanye West (Watch The Throne) are using. This track reveals the ultimate potential of Yelawolf's flow as he hits syllables on every hi hat while FeFe Dobson's chorus meshes with the beat perfectly. On "Everything I Love the Most", Yelawolf identifies with the listener by questioning why everything he loves the most is so wrong for him.  Although this topic is  common among most people, Yelawolf relates it to the concept that fans "don't want rappers to lie but they don't want the truth".
After a few listens Radioactive fits Yelawolf perfectly.  The Majority of fans figure since he's from the south his whole album would be ignorant but there are a wide variety of topics and themes. That's a good thing in terms of Yela's future, it shows he's a professional musician  with room to grow. The singles released are perfect for the club and radio yet there are some hidden gems on Radioactive.  There aren't any songs of the year nominees but the album is good enough to earn album of the year nods from mainstream critics. Its rare to find such an original style blended with high quality production, lyrics, and flow on a debut album. Radioactive is available in stores and on Itunes on November 22, 2011.
Follow us on twitter @HipHopEnqMag and @Alex_HHE to share your thoughts 
Comments
comments
Category: Album Review, Reviews