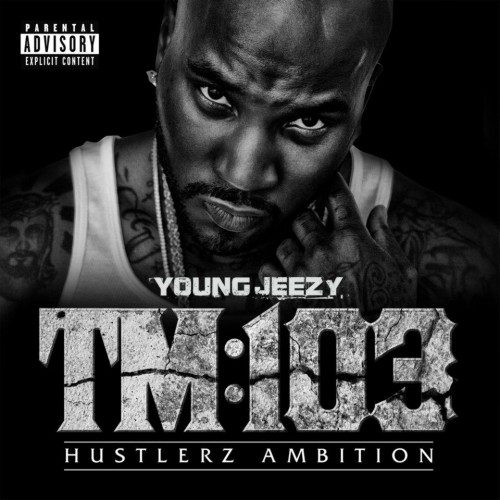 Lyrics B-  Beats B+  Flow B+  Originality A-  Grade B+
It's the same song, today's artist don't focus on influencing listeners the way artists did when it started.  The Atlanta  hip hop scene hasn't been the same since  Young Jeezy dropped the intro course for Thug Motivation studio series. TM 101's impact on urban culture can be the topic of another discussion, as of December 20th 2011, the topic is about TM 103.  Although Jeezy's fourth solo album is finally here, it was  a long time coming to say the least. TM 103  had been delayed for nearly two years, missing several proposed  release dates, all denied by representatives from Def Jam Records. Along with these  setbacks,  Jeezy  has confirmed that the album marks the third and final album in his Thug Motivation series.
Fans expecting Jeezy's lyrical content to be elevated have been terribly mistaken. Unlike other rappers in the trap genre, Jeezy stays consistent on focusing on the topics that put him where he is now. To the disappointment of those saying Jeezy would go commercial; the album opens with a signature Jeezy introduction ("Waiting") worthy of comparison to the one on his debut. The in house production from Lil Lody proves he has potential to be great, so great that Fabolous and Jadkiss couldn't pass up on one of his tracks. "OJ" is the track most critics would want to hear from Jeezy. Lody's sonic vision symbolizes elegant champagne and fine women while the grimy lyrics boast   "killing that white bitch" – a witty cocaine metaphor disguised as Nicole Brown's corpse.
Now that Jeezy has certified his spot in Atlanta hip hop royalty, he makes way for the next generation of artist and producers. On "Way Too Gone" Jeezy rides Mike Will's atmospheric production through the solar system picking up Future on Pluto for the last verse. 2 Chainz helps Jeezy portray their shared appetite for potent narcotics and promiscuous women on "Super Freak".  Although both songs lack the punch lines and new flows that can be expected from both featured artist, they have potential to be favorites for the car and strip club alike.
TM 103 takes a thought provoking turn steered by production from The J.U.S.T.I.C.E. League. Jeezy's  deep perspective on belief and struggle accompanies  Jill Scott's momentous appearance on "Trapped"; followed by  "F.A.M.E." where T.I. helps Jeezy explain the jealousy and hate they received once their struggle was over. The uplifting lyrical content and inspiring sound are good examples of how Jeezy's main goal is to motivate his listeners.
The album concludes with  rare features from Snoop & Devin the Dude on the herbal-influenced "Higher Learning" and Trick Daddy on "This Ones For You" (said to be aimed at Rick Ross). With the mayor of Miami and Jeezy ending TM 103 on that note, the maturity and focus of Jeezy won't be questioned for a long time.
Follow us on Twitter: @HipHopEnqMag
Comments
comments
Category: Album Review, Reviews