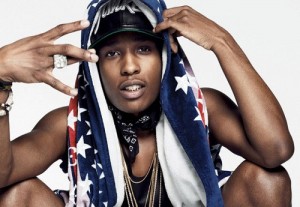 In a recent interview with Complex magazine, A$AP Rocky revealed that several of his closest acquaintances have betrayed him as his star has risen over the past year. The Harlem-born rapper says that SpaceGhostPurrp, in particular, has no reason to be as hostile as he's been.
There have been rumors of hostility between the ASAP camp and the Raider Klan crew. Finally ASAP shines some light on the situation.
"I had a lot of close friends stab me in the back for their own greedy desires," said ASAP.
"I never saw that coming. I never thought my real n*ggas would be on some f*ck sh*t with me, and do wack sh*t. I'm a good n*gga, and a lot of people f*ck with me and then leave with these accusations trying to f*ck up what I worked hard for," Rocky said in an interview. "For example, the whole thing with SpaceGhostPurrp. I didn't say anything. He's putting his foot in his mouth. People are starting to see he's a racist and crazy and bipolar. I look on the Internet and every time we put something out he gets his Raider Klan people to be like, "You're biting," and it's like, "You're just mad I'm bigger than you." His life revolves around hating on me, and this is a guy who used to live in my house. My mom took care of him. Before I had a record deal we were sharing dinner plates and sh*t."
ASAP is on the cover of the December/January issue of Complex Magazine. Watch a show ASAP and Spaceghost did in NYC last year before all the beef went down.
[kkytv id="BWIqcy2_fEU"]
Hip Hop Enquirer Magazine|Follow us on twitter@hiphopenquirer
Comments
comments
Category: Interviews, Latest Hip Hop News, Media Gallery