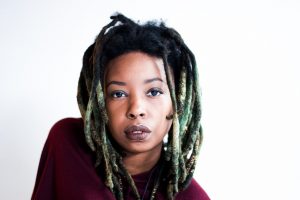 Melodic, smooth, sensual, and profound are just some of the words used to describe Atlantean artist Yani Mo. Her artistic musical influences range from Toni Morrison, Al Green, Lauryn Hill, and Dilla, to every artist she's met since her spoken word days. Yani Mo is a Lithonia native that has commanded the growing subculture of Atlanta with the drop of her first album "The Moment" produced by Decatur based producer Prorow.
Yani Mo was recently a special guest on the spilltheTea show, where she talked about her newly released album 'The Moment', and her growth as an artist from her last E.P to the creation of her album. She shared a great deal on the show including her issues with overcoming depression and how it led to her to create some amazing music. She even shared her views on love and relationships including poly- relationships, leaving us with some juicy details about her own past polygamous relationship that involved her self, a man, and another woman.
Check out the interview below.
Comments
comments
Category: Feature, Music, Special, Talk of the Town