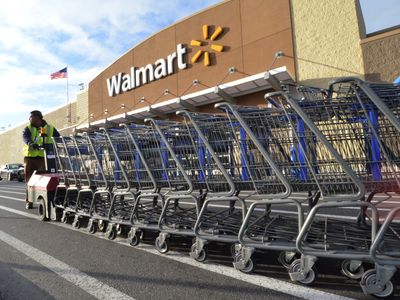 If you were out for Black Friday today in Atlanta and happened to stop by a Walmart, then chances are you bumped heads with a few protestors.
About two dozen union protesters walked a picket line along the crosswalk of the driveway leading to the Wal-Mart store on Howell Mill Road at I-75 in northwest Atlanta. A solidarity rally also was planned Friday afternoon across from a Wal-Mart in the 3500 block of Memorial Drive in Decatur in Avondale Crossing.
On Howell Mill Road, picketers broke their line to let cars enter the lot, but things got testy just before 9 a.m. when the driver of a sport utility vehicle slowed for the protesters, but didn't come to a stop at the crosswalk, and nudged several of the protesters out of her way. No one appeared to have been injured in the encounter, and the SUV continued into the store's parking deck.
According to flyers that protesters were handing out to anybody within distance, the group, Making Change at Walmart, was demanding that Wal-Mart employees be paid at least $13 per hour, get expanded health care coverage, be given full-time work and have the freedom to unionize without retaliation.
Wal-Mart, which has roughly 1.3 million U.S. workers, has asked the National Labor Relations Board for an injunction against the rallies and pickets staged by the United Food and Commercial Workers International Union that have sprung up at stores nationwide, the Wall Street Journal reported.
"We are taking this action now because we cannot allow the UFCW to continue to intentionally seek to create an environment that could directly and adversely impact our customers and associates," Wal-Mart spokesman David Tovar said in a statement this week. "If they do, they will be held accountable."
In response to protesters' complaints about working conditions, Wal-Mart has said it has 250,000 associates who have worked for the company for more than 10 years, that it promoted 165,000 hourly employees last year, and its turnover rate of 37 percent is lower than the retail industry average of 44 percent.
The protests apparently did not stop shoppers today which was good for Walmart.
The store said Friday it had larger crowds than last year, including 22 million customers Thursday. The retailer said it has sold more than 1.3 million televisions since 8 p.m. Thursday, when its promotions began.
Friday morning, Bill Simon, Wal-Mart's U.S. president and chief executive officer, reported in a press release that, "only 26 protests occurred at stores last night and many of them did not include any Wal-Mart associates."
The company said that stores experienced no widespread walk-offs by employees.
"We estimate that less than 50 associates participated in the protest nationwide," Simon said
Hip Hop Enquirer Magazine|Follow us on twitter@hiphopenquirer
Comments
comments
Category: Latest Hip Hop News