G.O.O.D. Music rapper, Big Sean and R&B bad boy, Chris Brown individually grace the covers of the December/January issue of XXL. Big Sean discusses his upcoming album, Hall of Fame: Memoirs of a Detroit Player, due out in early 2013.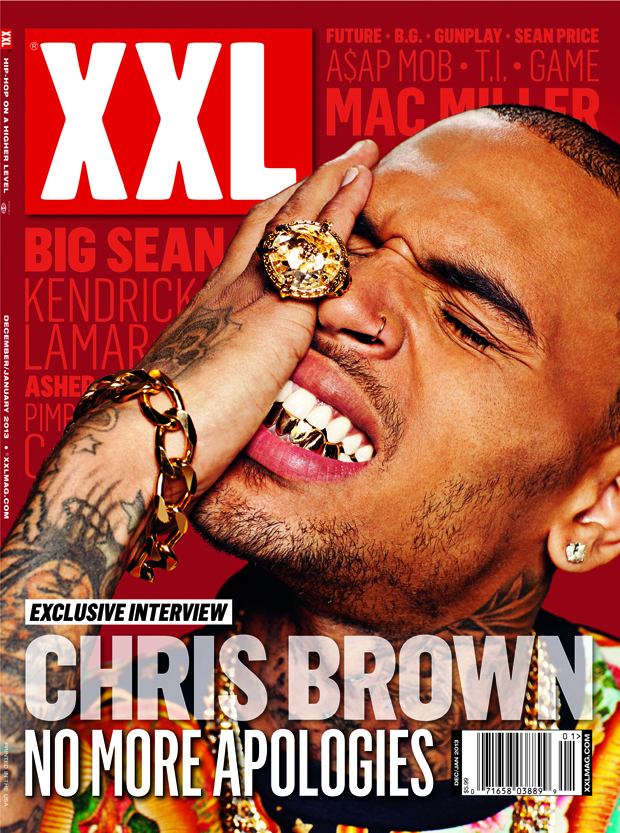 Big Sean on Hall of FAme: Memoirs of a Detroit Player:
"I took all my experiences from Detroit and incorporated them into who I am today. From partying to inspiration to sharing times about being broke to love to the dope boys, paper chasers. I would see all the players rocking furs and gators. I've seen people get killed. I've seen people spend crazy money. I've seen poor people. I give every aspect of the city in my music. They need somebody to tell that story."
XXL made a bold move by letting Breezy write his own cover story. Here's what Chris Brown had to say about his super-publicized and often tumultuous love life:
"One thing people often want me to talk about is my public love life. When it comes to my love life, the perception seems as though I am a player. But that's not true. Love is something I am still learning. It's just an obstacle that I haven't yet mastered. I think that's my biggest hurdle in life. I use music or painting as my outlet to get through the confusion. I try to promote positivity and love."
The December/January issue of XXL hits newsstands December 4th.
Follow us on Twitter: @HipHopEnquirer
Comments
comments
Category: Latest Hip Hop News, Music