Racism in advertising as PR stunts has worked well in the past for other corporations, but will this be the case for International retailer H & M?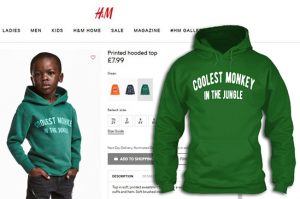 The international retail giant H&M featured an ad with a black child model wearing a hoodie emblazoned with the phrase "coolest monkey in the jungle." The ad was for an online advertisement for the UK market.
 Representatives from the company sent out a public apology:
"We sincerely apologize for offending people with this image of a printed hooded top," H&M said in a statement. "The image has been removed from all online channels and the product will not be for sale in the United States." "We believe in diversity and inclusion in all that we do and will be reviewing all our internal policies accordingly to avoid any future issues."
As you can expect social media blew up over the racist undertones of the ad. Everyone from celebrities to social-justice experts to comedians chimed in.
In the year 2018 there's no way brands/art directors can be this negligent and lack awareness. If look at other sweaters in same category they have white kids. We have to do better. pic.twitter.com/Av4bS4t6yn

— alex medina (@mrmedina) January 8, 2018
Every company should invest in training that encompasses cultural competency and sensitivity. It is absolutely necessary. @hm pic.twitter.com/efMR0oL3jx

— The King Center (@TheKingCenter) January 8, 2018
This isn't the first time the Sweden-based retail chain has been under fire for racial and ethnic insensitivity. Back in  2015, the company drew fire after its South Africa division featured no black models. When questioned about the lack of diversity, H&M's tweeted response suggested that white models conveyed a more positive image.
Another incident back in 2013, H&M pulled feathered headdresses from its stores after Canadian customers complained it made fun of First Nation tribal customs.
The black community is calling for a global boycott of the 17 billion dollar company for continuously showing racially insensitive behaviour.
Comments
comments
Category: Celebrity Justice, Feature, Latest Hip Hop News, Politics, Talk of the Town