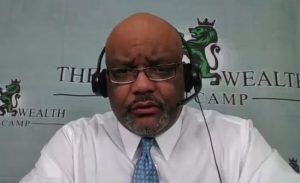 Dr. Boyce Watkins was disinvited to speak at  UCLA Saturday morning. He was a panelist at  'A Social Justice Conversation' a UCLA event that featured a conversation with  Common and Kareem Abdul-Jabbar. "Apparently, my views are  inconsistent with the views of the UBAA brand."
Dr. Boyce Watkins was scheduled to join a powerhouse panel discussion that included himself,  Dr. Kelly Lytle-Hernandez, Interim Director of the Ralph J. Bunche Center for African American Studies, and Dr. Tyrone Howard of Black Male Institute.
Watkins was invited to come speak at the UCLA event months ago, but upon arrival, he was disinvited by members of the UCLA Black Alumni Association.They informed Watkins that he would not be joining the panel discussion because his views were "inconsistent with the views of the UBAA" according to an open statement from Dr. Watkins informing his following that he would not be speaking at UCLA.
"This is one of the reasons why I don't speak much on college campuses. My idea of black economic empowerment, particularly being independent of white supremacist liberal or conservative ideologies does not sit well with some people in the establishment.  The arrogance of white supremacy often leads those in these institutions to feel black men should be honoured when we are invited into their institutions to speak. Sorry, but I never was that negro." Watkins stated in his open letter addressing the disinvite.
Watkins also released the video below addressing what happened and how he will be taking legal action against the institution. Watkins stated in the video that he is not mad that he was disinvited. He is just upset that UCLA invited him and allowed him to promote the event for months to his million+ following only to turn around and be disinvited because of his views.
Comments
comments
Category: Breaking News, Celebrity Justice, Feature, Latest Hip Hop News, Legal, Politics, Special, Talk of the Town