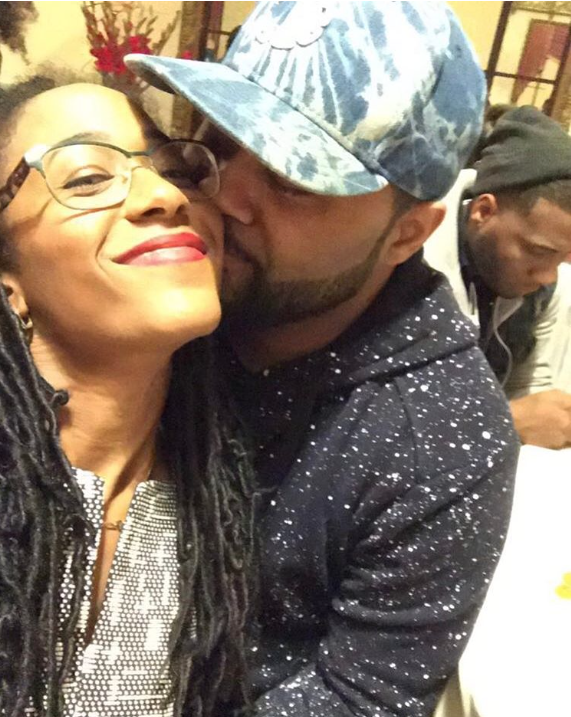 That was fast! R&B crooner, Musiq Soulchild is set to have a child with none other than Brother Polight's ex-wife, Ashley "Tiyumba" Wright and as of this morning, Ms. Wright is moving out of Atlanta and back to California after being dumped by the singer. She took to Instagram this morning and posted a picture of her and her daughter at the Hartsfield-Jackson Atlanta International Airport. Check it out below:
Now, time for a little back story!
Celebrity mentor and public figure, Brother Polight, was seen pictured on Instagram with Soulchild a few months ago back in January. Now, 4 months later, his wife from a polygamist relationship and him have broken up, he hasn't been spotted with the singer since, and Ms. Wright has posted several pictures with the singer while she claims to be 13 weeks pregnant with no explanation.
Recently video blogger Tommy Sotomayer aka "Crispy" posted a video exposing Brother Polight's ex-wife of one year because she has gotten pregnant by singer Musiq Soulchild.
Taalib Johnson known professionally as Musiq Soulchild  had sought out Brother Polight for mentorship and may have used a rouse by contacting Brother Polight via his "wife" Ashley Wright back in January of 2017. According to our well placed sources, Musiq flew to Los Angeles and set up a meeting with Brother Polight and the two spoke on some of the issues the singer was trying to get help with. Unbeknownst to Brother Polight, the singer might have had an ulterior motive to connect with him.
Since Ms. Wright has chosen to openly break the news via Instagram, she posted many pictures accompanied by the singer. Interesting how what was once known as Polight's goddess and center of everything won't seem to stop mentioning her upcoming child with her former man's friend.
So that now makes, what, a total of 7 pregnancy related posts that she has posted on social media since? You guessed it. And where, do we ask, Is Musiq Soulchild hiding out in all of this? Our guess is as good as yours because the singer has yet to even comment or post his supposed feelings of happiness about the news. Since Ashley has been dumped, Soulchild may never speak on her at all.
The last news we've heard about Musiq pertaining to his love life is that he is still living with his ex and also former 702 member, Meelah Williams but the two haven't been pictured together in some time so this could all be fair speculation. Nonetheless, Musiq has really messed up with this one and might want to clear the air sooner than later if he ever expects a clear image after these recent events.
What do you all think? Do you really believe that Musiq Soulchild is Ashley Wright's child's baby daddy? Do you feel that he is wrong for supposedly sleeping with his friend and mentor's wife even after they had parted ways? Leave all comments below!
Comments
comments
Category: Breaking News, Celebrity Justice, Talk of the Town