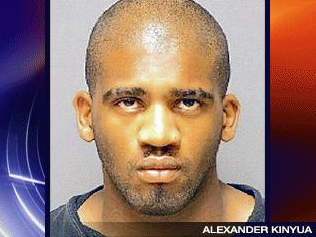 The college student suspected of killing and eating parts of a man staying at his home ranted months ago about "mass human sacrifices" on Facebook, one of several details that emerged Friday in the second gruesome case of alleged cannibalism in the U.S. in a week.
The 21 year-old Morgan State University student has been charged with first-degree for killing and then eating the remains of his roommate! The Harford County Sheriff's Office say Alexander Kinyua, admitted to murdering, dismembering and eating the body parts of 37-year-old Kujoe Bonsafo Agyei-Kodie, just days after his roommate went missing. Officers indicate they discovered Agyei-Kodie's body parts in the town home on Terrapin Terrace in Joppatowne as well as his head and hands at a nearby church. Following his arrest the electrical engineering student confessed to cutting up the victim with a knife and later eating portions of his heart and brain! According to Baltimore police spokesperson, Anthony Guglielmi, this is not Kinyua first violent offense. On May 19th the student beat a man so bad on Morgan's campus that he fractured his skull and caused victim to loose his eyesight in one eye. He was arrested on May 20th and released on $220,000.
This is the second cannibalistic attack to hit headlines in just three days! In the first incident, police where called to a Miami location where a man was found eating the face of a homeless person. It wasn't until police shot the man several times before his act of cannibalism stopped after he was killed by police.
Follow us on twitter@hiphopenqmag
Comments
comments
Category: Crime Stories, Latest Hip Hop News