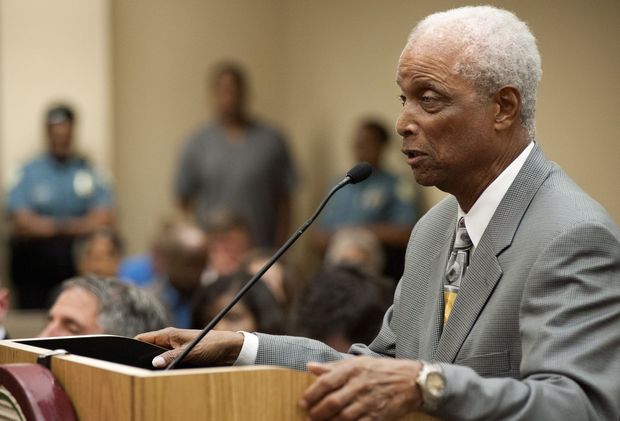 Judge Donald McCullin has only been on the job for year but has done something historic already. Judge McCullin of Ferguson Municipal Court has withdrawn all arrest warrants that were in effect until December, 31st 2014. This allows defendants to have new court dates and alternative sentencing, thus in hopes reducing the discrepancy in prison rates of blacks living in Ferguson, Missouri.
The U.S. Justice Department released in March a review of the Ferguson Police Department, which found them guilty of engaging in a pattern and practice of discrimination against African-Americans. Black drivers were twice as likely to be searched by police than white drivers, while being 26% less likely to be found with any illegal good.
This also, and typically, included leveling petty crimes against the black community of Ferguson as 95% of crimes of walking in the street and 92% of disturbing the peace crimes were charged against blacks. Ferguson is about 66% percent African-American so for these small crimes to be close to 100% on one race does not sit very well with many.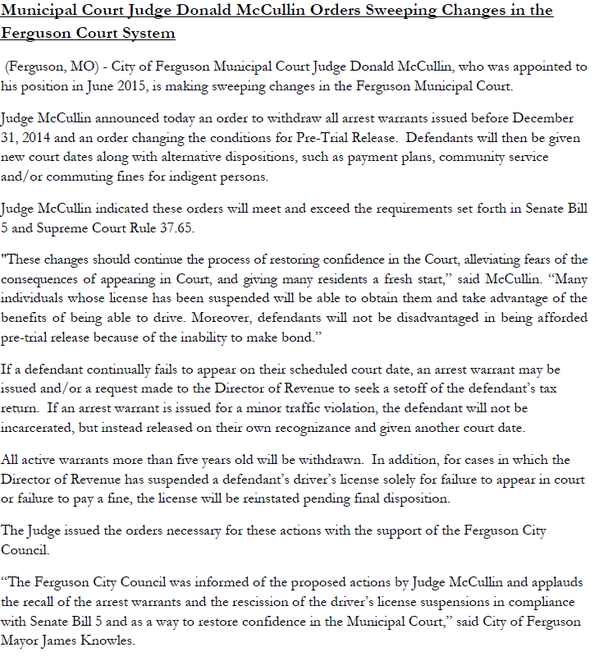 The issuing of these small fines usually results in warrants as those can charged can not afford to pay the fine. This clean sweep of warrants is said to, '…continue the process of restoring confidence in the court, alleviating fears of the consequences of appearing in court and giving many residents a fresh start' said McCullin.
Other changes Judge McCullin has issued include: allowing drivers who receive arrest warrants for a minor traffic violation to be released on their own recognizance after getting a new court date and not being put in jail, restoring a defendant's driver's license if it had been suspended solely because of failure to appear in court or pay a fine. Such a case will continue to go through the court system, but the person will be allowed to drive until a final decision is handed down, and targeting a defendant's tax refund if fines are determined to be justified and the person cannot pay.
In an US Justice Department finding, while clearing Darrin Wilson of civil rights violations, they found that Ferguson officials were showing deference to non blacks when it came to issuing and excusing tickets:
In August 2013, an FPD patrol supervisor wrote an email entitled "Oops" to the Prosecuting Attorney regarding a ticket his relative received in another municipality for traveling 59 miles per hour in a 40 miles-per-hour zone, noting "[h]aving it dismissed would be a blessing." The Prosecuting Attorney responded that the prosecutor of that other municipality promised to nolle pros the ticket. The supervisor responded with appreciation, noting that the dismissal "[c]ouldn't have come at a better time."
Also in August 2013, Ferguson's Mayor emailed the Prosecuting Attorney about a parking ticket received by an employee of a non-profit day camp for which the Mayor sometimes volunteers. The Mayor wrote that the person "shouldn't have left his car unattended there, but it was an honest mistake" and stated, "I would hate for him to have to pay for this, can you help?" The Prosecuting Attorney forwarded the email to the Court Clerk, instructing her to "NP [nolle prosequi, or not prosecute] this parking ticket."
In November 2011, a court clerk received a request from a friend to "fix a parking ticket" received by the friend's coworker's wife. After the ticket was faxed to the clerk, she replied: "It's gone baby!"
In March 2014, a friend of the Court Clerk's relative emailed the Court Clerk with a scanned copy of a ticket asking if there was anything she could do to help. She responded: "Your ticket of $200 has magically disappeared!" Later, in June 2014, the same person emailed the Court Clerk regarding two tickets and asked: "Can you work your magic again? It would be deeply appreciated." The Clerk later informed him one ticket had been dismissed and she was waiting to hear back about the second ticket.
The protests and demonstrations that have been sparked since murder of Mike Brown and the non-indictment of Darren Wilson played a large role in this. Hopefully this leads to other towns taking a closer look at the polices they enforce and who is being effected by them.
Follow us on twitter@hiphopenquirer
Comments
comments
Category: Crime Stories, Feature, Legal, Politics, Talk of the Town