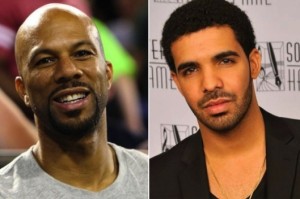 2012 is off to an interesting start thanks to Common and Drake.  Rumors circled around Drake and Common after the Chi-town MC dropped his single  "Sweet" back in November, ranting about soft MCs. A month later Common admitted that Drake (and other soft rappers) were the topic of the track,  which led to Drizzy firing back lyrically with his verse on Rick Ross'  "Stay Schemin'."  Although Drake failed to say Common's name, Common did the total opposite on "Stay Schemin (Remix)," a track that debuted Monday on Sway Calloway's "Sway in the Morining".
"My motto is, Chicago bitch/ Everybody know you sweet what the problem is/ Don't play dumb/ I'm the one that acknowledged it/ Son of a bitch, imagine what your father is/ She said how you make your opponent the rapper of the moment/ His style he don't own it/ Acting all hard and he hardly like that/ You gon mess around and make me catch a body like that, oooh"
The essence of hip hop revolves around lyrics and competition. It's been a while since two major artists have gone head to head in a disrespectful tone; led by Common who ends his verse with a witty punchline followed by "Make No Mistake I'm Talking About Drake". Even though Drake has been on record saying "diss me you'll never hear a reply for it",  not responding would add fuel to the fire Common has started.  The internet is ablaze with fans commenting on the "beef", especially on Twitter where "Canada Dry" is a trending topic. Lets hope Drake's next move is his best move, because it appears things just got "real". Listen to the diss below.
[kkytv id="s6Ck6fRamnY"]
Follow us on Twitter @HipHopEnqMag
Comments
comments
Category: Latest Hip Hop News