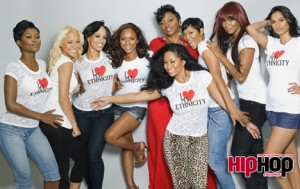 Lashawnna Stanley, CEO of Ethnicity Models
with some your favorite Video Vixens of all time
Photo by: Derek Blanks
So much of Hip Hop and Rap is centered around the glitzy and glamorous lifestyle, including what all men want: Beautiful Women. LaShawnna Stanley, CEO and Founder of Ethnicity Models and Talent, started the careers of  some of your favorite video vixens such as Melyssa Ford and Esther Baxter. She recently sat down with Hip Hop Enquirer Magazine to give us the real look into the world of Urban Modeling and women in the Hip Hop Industry.Read more below:
LaShawnna dishes on everything from how a video vixen can turn random gigs into an actual career, walking off sets and being a female mogul in the entertainment industry.  Unlike so many women that seek to empower women in the media, especially urban media, LaShawnna doesn't come off as judgmental or above it all. Instead she acknowledges the real world, and what men want to see, and how women can use it to build their empire.
Tell us about Ethnicity Models & Talent and what you provide to the Hip Hop/Entertainment Industry?
Ethnicity Models is the world's largest agency that provides talent in the urban market.  We started right when Hip Hop was becoming mainstream. The only way that girls who weren't 5'9 and a size 2 could get into the industry was through music videos. I didn't want the girls who were working with me, to be in the industry in a negative way. So I started Ethnicity Models so that if we had to get in that way, let's do it in a way that's tasteful and not degrading. Doing music videos led us to doing commercials, hair ads, fashion campaigns, and even television shows and movies.
How did you get into talent management and casting?
It was by accident. I had a kid at the age of 15, and I didn't want to be on welfare so I went straight from high school into Corporate America. I did that for about 10 years. Then I liquidated my profit sharing with the stock market company that I was working for and I started my own clothing boutique in Kansas City. I had to recruit models to advertise the store and do fashion shows, then I moved the store from Kansas City to South Beach, and I was doing the same thing. It was really all about promoting the store, but then I started getting calls about the models, and I wanted to make sure that they weren't getting into "Uncle Luke" type of videos, so I started managing the models.
Who are some of the people you've represented and what role do you feel you played in their success?
Melyssa Ford, Nicole Ricca, Esther Baxter, LaShontae Heckard and Tomika Skanes. All of the really big model names got their start with Ethnicity Models. I feel like my company provided opportunities that weren't there before. A while back, there was no such thing as an urban model. Hip Hop was at it's peak and I started Ethnicity Models at the right time and it just opened doors. People say if you build it, they will come. So companies started coming to me to produce the same formula that Hip Hop was using to sell albums. They associated Hip Hop with beautiful women. For example, we were doing T.I.'s "Top Back" video, and Chevrolet approached us about turning it into a commercial. So when the video was turned into a commercial, the models got extra checks.
Of course Hip Hop is known as a very mysogonistic culture, do you feel that we're starting to see things change in Hip Hop images and videos, or are things still as testosterone-driven as they were back in the "Uncle Luke" days?
I feel like Hip Hop has changed, but the whole culture doesn't have the hype that it had before. Corporate America isn't reaching out to Hip Hop the way it used to.  At the end of the day, corporations sell to families, and the raunchier Hip Hop got, the more corporations pulled away. I've been fighting to see a change in the imagery and stereotypes of women, but every time you see one change, you see another thing that's ten times worse in the other direction. So it's hard to say, you see some things change, and some get worse. It goes back and forth.
How do you balance wanting to make money, but also respecting your talent and contributing to ethnic women being portrayed in a positive light in the media?
I'm not motivated by money. I've turned down many jobs if they didn't reflect the image I have for the company. Money's not my motivation, so it's not a hard decision to make I know my source, and I don't believe that things like money are my source. Turning down one bad job, then a blessing may fall in my lap with more money or a better opportunity, so I don't let money get in my way.
What do you think turns your average video vixen from just a pretty face, into an actual businesswoman?
(laughs) Brains! Brains and having the right team and making the right decisions for your image. If your image gets too raunchy then you can't associate that image with anything bigger than a booty magazine or a music video. So if you turn down things that may not be tasteful and have patience and that "it" factor, then that helps you move forward as long as you don't taint that image.
Do you go on set with your talent? What was the craziest artist/situation you've ever encountered on set? Have you ever left a set, or had your talent leave a set due to outrageous behavior?
In the beginning I was on set with my talent the whole time, every time, but as the years went by, and my reputation preceded me, and the models got trained, I didn't have to be on set as much. It's still times when people try you and girls make mistakes, but people know when they call me not to pull the bull crap. The models will call me like "Oh my God, you should see what they have us wearing." I've also trained some of my former models to be behind the scenes, and sometimes they'll be on the set with newer models.
We've left sets a few times. One of the earlier times we worked Ludacris' "I Got Hoes" video. They told us that the song was called "I Got Pros", but the girls got there and they were playing the dirty version and the girls called me like you should see these little booty shorts they have us wearing, and some of the girls didn't go back after the first day. It taught us a lesson to ask for the lyrics, the clean version and the dirty version.
Another time we were doing a promotion for a record label, and the girls had to wear shirts that said "Pro-Ho-Zac". When the girls got there and saw the shirts, they left. The client didn't get their money back. Sometimes they try you. They have no respect for people's image, because so many girls will do anything just to be seen, so they assume it's cool with everybody else. But yes, we've definitely left sets and turned down jobs.
Working in a male-oriented industry, do you feel that you have to work harder to make people respect you?
In the beginning I did, because I look young, I'm curvaceous and it is a male-dominated industry. But if you stand your ground and don't let them feel like you need them, or that them giving you a job is going to make you, then they have no choice but to respect you. You have to earn your respect and not give in.
What advice do you have for women who are trying to pave careers in Hip Hop be it, modeling, rapping, singing, or the business end?
My biggest advice is never compromise yourself. People have different limits. Some women are comfortable in a thong, and if that's what you're comfortable in, do you! But if you feel like you're sacrificing who you are just to get somewhere, that's the biggest no-no.  You have to set a standard for yourself and be patient. You see people like Keri Hilson and it looks like she came out of nowhere but she's been in the industry for 13 years. Also, as far as modeling , the urban market, is not what it used to be, it's changed. So my advice to women is to look at other outlets. Become entreprenuers and create businesses in Hip Hop instead of just trying to be in front of the camera. Look into acting and other things that are bigger than the old way of Hip Hop.
So what do you think has changed about the Hip Hop/Urban Modeling Industry?
The money isn't there anymore. The industry's been saturated with girls. When I first started Ethnicity Models, you didn't see exotic-looking girls, you only saw the tall, thin models on TV. But now 10 years later, there are companies popping up with girls from Facebook and Myspace that are willing to work for free and do anything. So back then, you had beautiful girls that had standards and wouldn't do certain things, so you had to call us to get access to them, but now you can get on Myspace and Facebook and find girls to do it for free.
What's next for LaShawnna Stanley and Ethnicity Models & Talent?
Right now I started a Modeling Academy for aspiring models. The do's and don'ts, how to avoid scams, how to get into acting, how to audition properly, transitioning from modeling to acting, what pictures to take. The academy also focuses on the spiritual well-being , self image, self esteem because a lot of people in this industry don't have spiritual grounding and that's how  girls get caught up and turned out. So the Academy tries to lead girls in the right direction if modeling is what they want to do. I'm also writing a couple of books.
My bigger goal is to transition models and empower the women and models around me to be business owners as well, and to even run the company and I'll step back and be a motivational speaker and sell my books. So my biggest goal is just to empower women.
For more info on LaShawnna Stanley, Ethnicity Models and the Modeling Academy, visit www.ethnicitymodels.com
Follow us on twitter @hiphopenqmag
Comments
comments
Category: Interviews