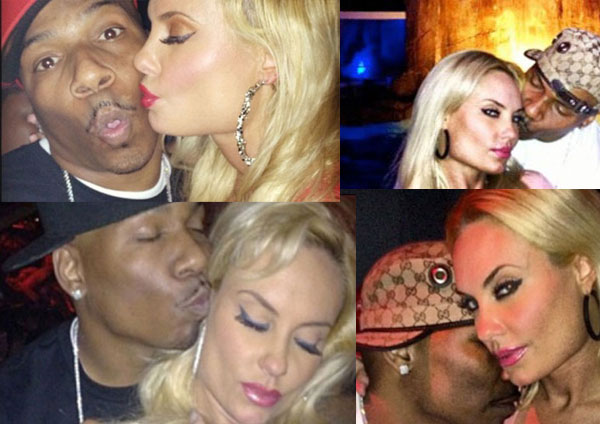 Let's hope Ice T doesn't go into "New Jack City" mode on AP.9 like he did Nino in the 90's movie, because AP.9 is now strongly insinuating that he is actually smashing Ice T's wife Coco.
So, we already know that Ice T blasted his own wife after the Twitter pics surfaced of the blonde sex symbol and AP.9 getting "really intimate" during a night out in Vegas. T stated that the pics were "disrespectful and in bad taste".
Coco responded by saying the pictures were harmless and that she was "happily married".
The situation has since then been "remixed" because AP.9 just added more fuel to the fire. When he was asked by TMZ about the rumors of him bangin' Coco, he looked in the camera with "attention joy" and said,
 That's a RUMOR? Is that a rumor?!
Then he added:
No comment man.
When he was asked about the retaliation of Ice T, he stated, "I'm from the hood…I'm not worried about nothin'."
Since the shocking release of the photos, the married couple have been spotted together and seem to have "made up".
Is this a publicity stunt by the couple and AP.9 is just living up to his role? We sure hope so!
Check out the full story over at TMZ as well as the FULL VIDEO of the interview with AP.9 here.
Hip Hop Enquirer Magazine | Follow us @hiphopenquirer
Comments
comments
Category: Latest Hip Hop News, Media Gallery, Talk of the Town