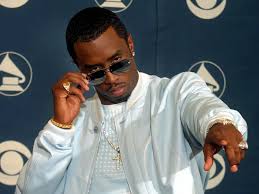 Hip Hop Mogul Sean 'Diddy' Combs wants to be the majority owner of the Carolina Panthers. Diddy shared on social media through a series of tweets and videos.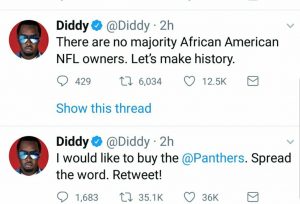 This would be the perfect time to buy into the team because it was announced on Friday that the current controlling owner Jerry Richardson is under investigation for sexual harassment misconduct and use of a racial slur directed at a team scout. Richardson announced his intention to sell the team after the season on Sunday.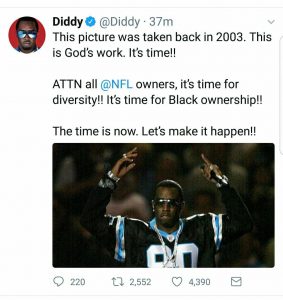 Diddy followed up his initial proclamation by pointing out that there are currently no African-American controlling owners in the NFL. He punctuated that tweet with the declaration, "Let's make history."
If Diddy became majority owner of the Panthers he would be the first African American NFL owner in the history of the NFL.
Diddy also shared on his Instagram page a video saying he will immediately address the Colin Kaepernick situation by starting him as the quarterback. In addition to having some of the most amazing Halftime Shows "when" they go to the Superbowl.
Make history Diddy.
Comments
comments
Category: Archives, Breaking News, Latest Hip Hop News, Special, Sports, Talk of the Town