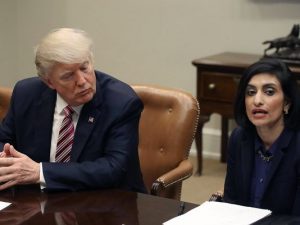 CNN reported early Thursday morning that in another radical move by the Trump administration, will allow states for the first time to impose work requirements on Medicaid recipients.
This historic move would be a significant change in how the government health insurance program operates and would finally fulfill a longtime Republican goal. For example, states, could require non-disabled, working-age recipients to work, volunteer, go to school or enter a job training program. The guidance also includes care-giving as one of the activities.
"Medicaid needs to be more flexible so that states can best address the needs of this population. Our fundamental goal is to make a positive and lasting difference in the health and wellness of our beneficiaries, and today's announcement is a step in that direction," said Seema Verma, the agency's administrator.
Bernie Sanders, US Senator (Independent-VT), in the "Issues: Medicare for All" section of his website (accessed Feb. 10, 2017), wrote:
"Health care must be recognized as a right, not a privilege. Every man, woman and child in our country should be able to use the health care they need regardless of their income…

We need a system that works not just for millionaires and billionaires, but for all of us. Americans should not have to fear losing their health insurance if they lose their job or change employment… We need a system that prioritizes the health of working-class families over the profits of insurance companies."
The Centers for Medicare & Medicaid Services released a guidance Thursday outlining what states need to do to mandate that certain Medicaid enrollees work to qualify for benefits. The agency is expected to start approving state waivers promoting "community engagement activities" in coming weeks.
Comments
comments
Category: Breaking News, Health, Legal, Politics, Talk of the Town