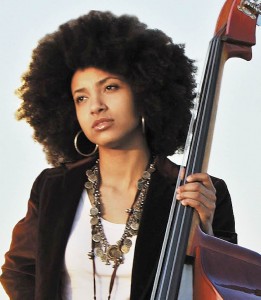 Author: Sylvia Burley
Grammy-Award winning artist, Esperanza Spalding, world premieres her brand-new music video, "Black Gold," off her forthcoming album Radio Music Society (due out March 20, 2012), on 106 & PARK at 6 pm (EST) tonight.  Directed by Pilar Sanz of Rita Clip! Producciones, S.L., the video is geared towards young boys of color.
"So much of our strength is drawn from resistance and endurance," explains Spalding, "but black pride didn't just start with the slave trade.  I wanted to address our nobility, going back to our incredible ancestors in pre-colonial Africa."
She continues, "I remember meetings when I was in elementary school about being strong as young black women, and I don't think the boys had those meetings.  This song is meant to speak to those young men, and I imagined it might one day be something that a parent could sing to his or her son."
The Portland, Oregon native's star has been on a meteoric rise since winning the Grammy Award in 2011 for Best New Artist, the first jazz artist to do so.  Her diverse ethnicity, which includes Welsh, Hispanic, Native American, and African American, is apparent in her Brazilian-themed music.
Spalding is a prolific musician AND teacher becoming, at age 20, one of the youngest professors at the Berklee School of Music.
As also one of the most talented musicians on the jazz scene today, we remain on the edge of our seats wondering what this musical phenomenon will do next.  Check her out later to see!
Hip Hop Enquirer Magazine | Follow us @HipHopEnquirer
Comments
comments
Category: Latest Hip Hop News, Media Gallery, Music, New Music Alert