Dale 'Rage' Resteghini is one of the best video directors that is available today. Hailing from Boston, Massachusetts, he is responsible for some of your favorite hip hop music videos. While also making a significant name in the world of rock music as well. This has helped his career as he has become infamous for his versatility and relentless work ethic. Resteghini has directed over 100 hip hop videos, as well as, over 100 rock videos and figures to just over 700 music videos in total. All of these videos have been shot in a time span of less than 10 years.
This global appeal has allowed Dale to direct videos in Canada, Australia, United Kingdom, Jamaica, Argentina, Spain, Chile, as well as other parts of the world.
He does all this with his partner in business and life, Kim Resteghini under their company Raging Nation. The list of names that Resteghini has worked with is almost endless. He has worked with; Nicki Minaj  Fall Out Boy, Pitbull, Diddy, Soulja Boy, Ice Cube, Flo Rida, The RZA, TI, Gym Class Heroes, Method Man, Redman, Jim Jones, Rick Ross, Guns N Roses, Tyga, Camron, Mudvayne, Li'l Wayne, Ja Rule, E-40, Lil Kim, The Game, Keyshia Cole, Bun B, Everlast, Akon, MIMS, Ray J, Birdman, Lil Jon, Snoop Dogg, Sizzla, Mohombi, Alexandra Burke, Too Short, Cypress Hill, Ludacris, Trina, Lemar, Three 6 Mafia, Vanilla Ice and that is just a sample.
Dale Resteghini started as a model, an actor and a dancer in Boston and as young man had been arrested for various infractions with the law. Reflecting on these experiences Resteghini once stated, "Even though I may have tripped myself up some 50 or 60 times in my younger years, I managed to never blame anyone but myself and I finally defeated the demons that were in me to become the man I was raised to be by my mother and father."
Dale Resteghini has also dabbled in the world of film. He directed his first movie Colorz of Rage which featured Redman and R & B singer Cheryl Riley. Showing his comedic side he directed Da Hip Hop Witch in 2000, a spoof of The Blair Witch Project starring Eminem, Ja Rule, Mobb Deep, Pras, Rah Digga and Vanilla Ice.
Resteghini has several filmmaker influences which include Robert Aldrich, Tony Scott, Orson Welles Spielberg, Mann, Ridley Scott, Michael Mann, John Huston and others. He often known to quote 'Rocky Balboa', as he truly believes the essence of the character represents most of the known world to some degree. It is that blue collar, working class attitude and approach he brings to any set he works on in order to complete the task at hand and make a masterpiece.
Winning MTV Best Video Music Award for Fall Out Boy's 'Grand Theft Autumn/Where Is Your Boy', his mark in directing will be more than just accolades. As he had to work hard to get to the point he is now and make the impact in music videos that he has. Resteghini once said, "If I learned anything in this life it is in fact true that it's not how many times you get knocked down, it's if you can keep getting up and stay in the fight to give yourself a chance to win!" A statement that holds true as ever.
Dale Resteghini currently also serves as president KCB EXTREME, he is responsible for securing athletes from the emerging world of Extreme Sports and securing endorsements as well as other marketing opportunities in all areas of entertainment from Film, Television, Music and the always evolving New Media space.
He also is the Director of Creative Channels for Mahala. He is responsible for securing brands and partners from the vast world of entertainment, sports, health and wellness as well as all facets of the web and new media.
He also has a new film coming out called Crash The Sky. Not much is known about the project right now other than that skateboarding looks to be the primary subject of the film.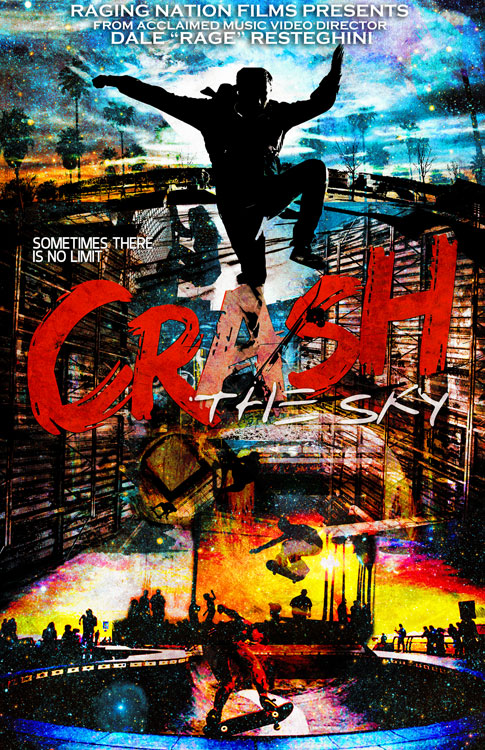 If you have any interest in working with one of the best directors in music videos today or an extreme athlete in need of branding. You can contact Dale Resteghini at www.ragedirector.com, on Twitter at @REELRAGE and at wwww.daleresteghini.com
Follow us on twitter@hiphopenquirer
Comments
comments
Category: Latest Hip Hop News