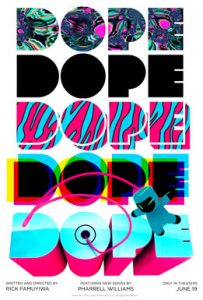 One of the biggest darlings at this year's Sundance Film Festival was Rick Famuyiwa's(The Wood, Brown Sugar) film Dope. This film is a coming of age tale centered around Malcolm(Shameik Moore) who is a hip hop nerd growing up in Inglewood, California with big dreams of attending Harvard University.
Famuyiwa spoke to EW about the film and a reason why the characters are who they are.
"The main character, Malcolm is a '90s hip-hop geek. He isn't a drug dealer or a gang banger. He's into all types of music, and video games and computers. We've seen a lot of films about everything else in these neighborhoods—the crime, the athletes, the gangs—but you don't see films about the regular kids who have to survive in these streets."
The film has an amazing cast and crew starring, Zoë Kravitz, Blake Anderson, Kiersey Clemons,Tony Revolori and A$AP Rocky. The film has more California hip hop acts such as Tyga,Casey Veggies and Vince Staples. Rounding out the crew is the film's narrator and producer Forrest Whitaker, with Pharrell and Diddy serving as producers as well. 'Dope' is scheduled for release June 19th.
Follow us on twitter@hiphopenquirer
Comments
comments
Category: Feature, Movie Review, Movies, Reviews, Videos