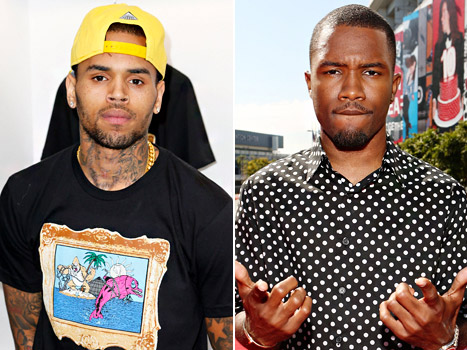 While Chris Brown recently deleted his Instagram account  and pulled away from social media after getting into a fight with Frank Ocean last weekend at an LA studio, Frank is handling the situation in the opposite way. Frank is actually using social media as an avenue to let the media, fans and everybody else know how he really feels about the whole altercation and the aftermath.
Rumors circulated that Frank Ocean would be pressing charges against Chris Brown, but according to the R&B crooner's latest sentiments, getting Chris Brown in trouble again is not on top of his t0-do list.  Frank is taking the higher road and claims in a quick blurb he made today on his Tumblr page, that he doesn't feel like dealing with any criminal charges or lawsuits. Here's what Frank had to say:
 
Both artists will be present next weekend at the Grammy's, as they both have been nominated in the Best Urban Contemporary Album cateogry. It's also been confirmed that Frank will be performing at the awards show. Kudos to Frank for taking the high road and avoiding the drama.
Follow us on Twitter: @HipHopEnquirer
Comments
comments
Category: Latest Hip Hop News, Media Gallery, Talk of the Town