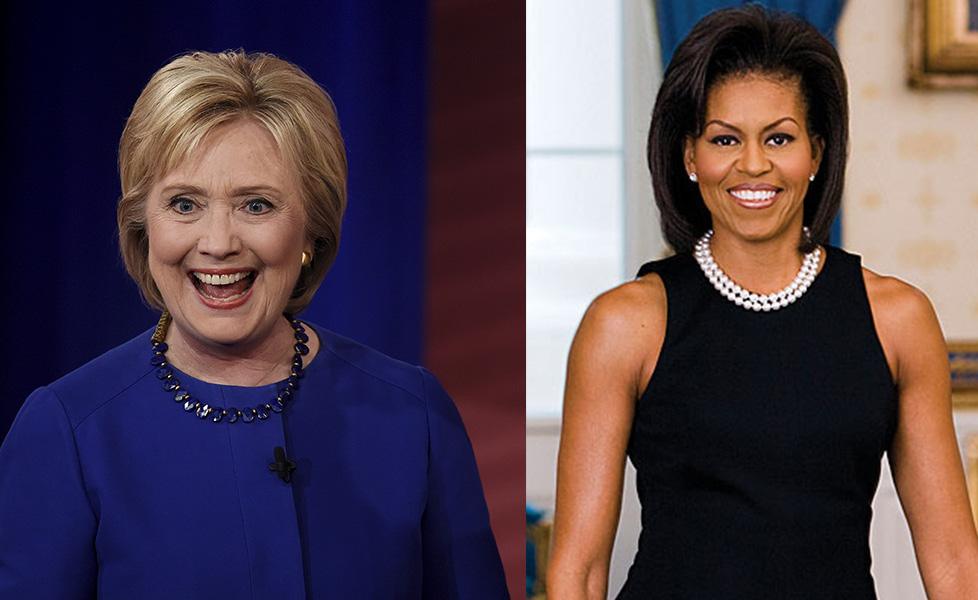 In a move that will almost guarantee a presidential win for Hillary Clinton, inside sources have told us that Clinton will announce in the days to come that Michelle Obama will be joining her campaign as her pick for vice-president of the United States. This would be an historic move on many levels, one being that the first woman would be elected to the highest office in America and that her vice-president is would also be a former first lady and African-American VP. In addition, both Bill Clinton and Barack Obama would be in the shadows of their spouses career but would provide a powerful support system since both would be past Presidents with favorable records amongst a majority of the nation.
Donald Trump has said the "woman's card" is all Hillary has going for her — I just loved Hillary's response: "If fighting for women's health care and paid family leave and equal pay is playing the 'woman card,' then deal me in." Hey Donald, it appears Hillary is stacking the deck with playing her "woman card" Great move if you ask us.
Hillary Clinton on Friday brushed off Donald Trump's sometimes personal attacks against her as him being "off the reservation" — something she said she has experience with.
"I have a lot of experience dealing with men who sometimes get off the reservation in the way they behave and how they speak," Clinton said in an interview with CNN's Jake Tapper on "The Lead."
First Lady Michelle Obama next week will appear on NBC's "The Voice" together. The first lady will also appear on CBS' "NCIS."
The TV appearances have been booked for the women to celebrate the fifth anniversary of their Joining Forces initiative, which was launched in 2011, calling on all Americans to rally around service members, veterans and their families and support them through employment, education and wellness opportunities.
On May 2 at 8 p.m., the first lady and Dr. Biden will appear on "The Voice," joining host Carson Daly and judges Christina Aguilera, Pharrell Williams, Adam Levine and Blake Shelton for a special episode with an audience filled with active duty and retired service members and military families. The singing competition will showcase the Top 10 contestants on Monday night's show.
At 8 p.m. the next night (May 3), Obama will guest star in an episode of "NCIS," marking the first time the first lady has let a non-news television program into the White House. While details on her episode are scarce, the Joining Forces initiative will surely fit into the themes of the naval procedural drama.
We reached out to Secretary Clinton's campaign for comment but haven't received an official statement.
Follow us on twitter@hiphopenquirer
Comments
comments
Category: Breaking News, Latest Hip Hop News, Talk of the Town