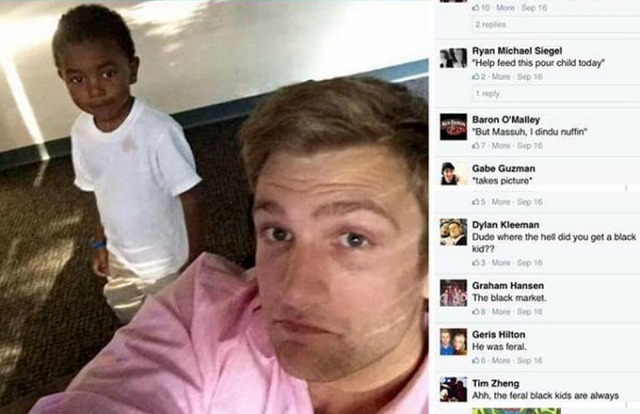 There are some pathetic people in this world, and Gerod Roth is one of them. The former employee of Polaris Marketing Group was let go after he posted a selfie with 3-year-old Cayden Jenkins. He posted the photo to his Facebook account on September 16th and a slew of ignorant and hateful comments ensued. Comments like, " I didn't know you were a slave owner" and calling the child "Kunta Kinte".
While it appeared to only be his friends that took aim at the innocent child, Roth who goes by the name of Geris Hilton on Facebook, replied to a comment with a racist one of his own. When asked, "Dude where the hell did you get a black kid??"". He responded with "He was feral".
Polaris Marketing Group President Micheal Da Graca Pinto commented on the situation. He said, "It breaks my heart that Sydney and her adorable son Cayden were subjected to such hateful, ignorant and despicable behavior". Roth is now doing damage control and trying to play victim but it is too late as he was terminated on September 29th. However, the Atlanta Journal-Constitution wrote that the firing was unrelated to the Facebook post.
There is a GoFundMe for Cayden started by his godmother Brittany Turner:
I started this GoFundMe with the intentions of having a way for all of the loving supporters to donate to furthering the education of Cayden. People all over were asking how they could send him money for college and I figured that this was the best way of doing so, instead of giving out personal information. The funds are going to be directly deposited into Cayden's personal savings account.
Racism is sickening in itself but to subject a child to that is flat-out inexcusable and nothing can be said to redeem those actions.
Follow us on twitter@hiphopenquirer
Comments
comments
Category: Latest Hip Hop News, Media Gallery, Politics, Talk of the Town