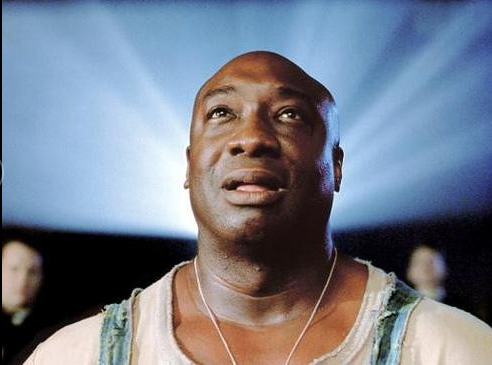 Michael Clarke Duncan, the strong, tall actor from Chicago with the shaved head and deep voice who received an Academy Award nomination for his moving portrayal of a gentle death row inmate in the 1999 prison drama "The Green Mile," died Monday. He was 54. Duncan died at a Los Angeles hospital, according to a statement from his publicist, Joy Fehily. He suffered a heart attack in July and did not recover.
Duncan, a former ditch digger for Peoples Gas in Chicago, began his Hollywood saga as a celebrity bodyguard in the mid-1990s. He received his first big acting break playing a member of the drilling team sent into space to blow up an asteroid heading to Earth in the big-budget 1998 movie "Armageddon," starring Bruce Willis.
But it was "The Green Mile," starring Tom Hanks as a death row prison guard in a Louisiana penitentiary during the Depression, that thrust the 6-foot-5, 300-plus-pound Duncan into the limelight.
[kkytv id="ctRK-4Vt7dA"]
He portrayed John Coffey, a gentle giant with supernatural powers who has been sentenced to death for the murders of two white girls.
"There was something about him that I just couldn't ignore," writer-director Frank Darabont said of Duncan in a 2000 Daily Variety interview. "After his first reading, he kept haunting me. Given that he was a fairly inexperienced actor at that point, obviously, there was a concern about, 'Gee, how would this guy do?'
"But once we put him on film, it became apparent that he was up to the task."
Duncan credited acting coach Larry Moss with teaching him "how to dig within myself" for the heavily emotional crying scenes in the movie.
"I'm an emotional person, a very emotional person," Duncan told Tribune Newspapers in 2000. "All those tears you see in the movie were mine."
In 2002, two years after the Academy Awards ceremony, Duncan told The Orange County Register: "Realistically, I didn't think I would win the Oscar, but the nomination was a personal validation for me. It proved to me that I was a good actor. More important, it showed other people that I was a serious actor."
We wish his family strength in their time of mourning as well as his fiancé Amorosa Stalling.
Hip Hop Enquirer Magazine | Twitter@hiphopenqmag
Comments
comments
Category: Latest Hip Hop News, Talk of the Town