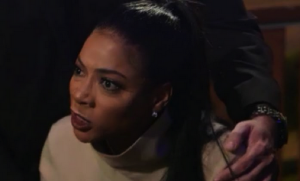 It looks like Love & Hip-Hop: Atlanta producer Mona Scott-Young has a HUGE problem on her hands. According to Sandra Rose LHHATL cast member Tommie Lee brought a loaded gun on set Thursday night.
SandraRose.com reports that Tommie Lee arrived on the set on Thursday night with 2 men in her car. Security ordered the men to leave.  But as they were leaving one of the men handed Tommie a loaded gun. When Tommie was searched security found the weapon on her with a bullet loaded in the chamber.
LHHATL's set policy is to keep the locations of the filming a secret. No one outside of the cast and crew is allowed on the set, and the cast members must surrender their cellphones and undergo full body searches.
Security didn't call the police, but crew and cast members were extremely fearful for the mental stability of Tommie including Karen King who was once a friend but now foe of Tommie. Due to the high number of ex-convicts and violence among the cast members, Mona Scott hired a team of security guards to protect each individual cast member.
Sandrose.com also added that the guard who was assigned to Karen King  was fired last night because he had his gun drawn when Tommie and her goons arrived on the set.
We are happy to hear that all the weapons were found and no one was hurt. But the question we need answered is why does Tommie feel the needs to have a loaded weapon on set? Who really has Tommie looking over her shoulder?
Comments
comments
Category: Archives, Breaking News, Celebrity Justice, Latest Hip Hop News, Special, Talk of the Town