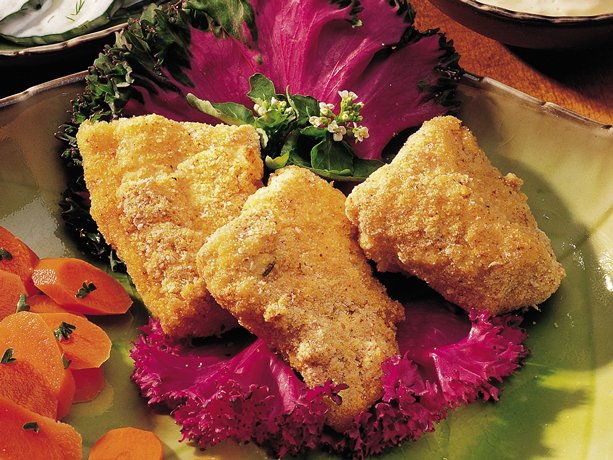 Here is a healthy food suggestion that we are sharing with our readers today that may offer an alternative to those meals that are no healthy for you. No deep-fat frying needed! Cornmeal and bread crumbs give a crispy coating to this spicy oven-baked fish. Spotted at Eat Better America.
1 lb trout or other medium-firm fish fillets, about 3/4 inch thick
1/4 cup buttermilk or fat-free (skim) milk
1 egg white, slightly beaten
1/3 cup yellow cornmeal
1/3 cup Progresso® plain dry bread crumbs
1 teaspoon Cajun or Creole seasoning
Butter-flavored cooking spray
Lemon wedges, if desired
1 Move oven rack to position slightly above middle of oven. Heat oven to 500°F. Remove and discard skin from fish. Cut fish into 2×1 1/2-inch pieces.
2 In small bowl, mix buttermilk and egg white with fork. In another small bowl, mix cornmeal, bread crumbs and Cajun seasoning. Dip fish into buttermilk mixture, then coat with cornmeal mixture. Place in ungreased 13×9-inch pan. Lightly spray cooking spray on fish.
3 Bake about 10 minutes or until fish flakes easily with fork. Serve with lemon wedges.
Comments
comments
Category: Health, Latest Hip Hop News, Lifestyle