Grade: Lyrics: A-  Flow: B+ Beats: B- Originality: A- Overall: B –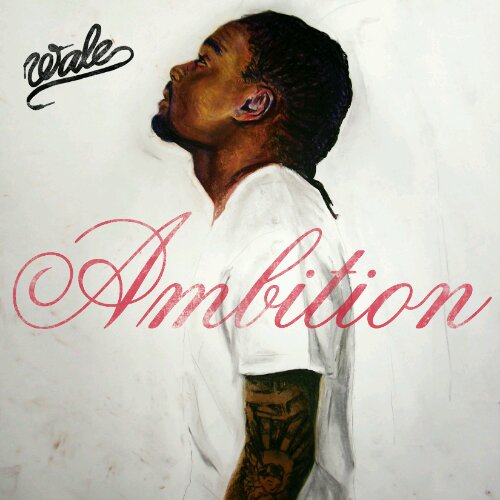 Wale's Ambition is similar to an abused step child. Once placed with a family that can show true appreciation for the child's skills, the child can shine like it's supposed to. This is referenced to Wale's situation of the release of his debut album Attention Deficit with Interscope records in 2009.  Wale went on record saying that the label did not give him the opportunity to make the music he dreamed of recording.  Like a runaway child, Wale found his home with Rick Ross's Maybach Music imprint under the Warner Brothers umbrella.  To Wale's defense, his debut wasn't bad at all, it simply lacked record sales and industry buzz. His sophomore effort however, is something that fans new or old will love.
Washington D.C.'s golden child has always been acclaimed for his lyricism which covers nontraditional hip hop topics like relationships and social status, as well as the everyday grind to make ends meet.  The album opens with "Don't Hold Your Applause" which proves Wale woke up on the right side of the bed that day. On this track, Wale separates himself from his other industry counterparts over a high school band snare produced by Tone P & Chris Barz. The background vocals compliment the amount of soul Wale lends to the track. This lets the listener know that this album is for the fans versus a half way effort of self gain. The following track" Double M Genius" begins with Wale commenting on his trait of being one of the best thinkers in the rap game now. His boasting is backed by the opening line "Im'a let the chips fall/ n*****s is Kemba Walker tryna see me Pitt fall". For those who are lost, he is referencing Uconn graduate and NBA rookie  Kemba Walker's game winning shot ending UPitts's NCAA tournament run.
This man is somewhat of a monster when it comes to sports references and word play, unlike other newcomers in the game today. On "Miami Nights" produced by Miami legends Cool & Dre , Wale narrates his escapades in Miami's Overtown section (Rick Ross's neighborhood) and the comfort he has while in company of the self proclaimed "Boss". "Legendary" produced by T.I. and Young Jeezy's go-to producer Dj Toomp, is a gem on the album. The beat is nothing short of expectations of Toomp with the crisp snare and wedding band horns that compliment the vibe of the whole album.
The biggest surprise on the album is "Focused" featuring G.O.O.D. Music's Kid Cudi. This track was a shocker due the rumors of Wale and Cudi not speaking for over a year for debatable reasons. For the fan's benefit, the two artists got back together and created a hit that will be popular at any nightclub where movement of the body is acceptable.  Cudi kills the hook as usual, while Wale adds substance, reason, flow and wordplay. "No Days Off"produced by "The Bizness" rounds off the end of the album giving Wale a chance to elaborate on his popular slogan. This track is worthy of trending topic on Twitter as well as a soundtrack for any fan who is grinding daily. Wale makes the topic clear, backing it up with syllable scheme rhymes like "No days off! No days off!/ Heard they coming for a n*****, B**** I'm Ray Charles/ No days off! Takin' breaks will leave you broken And we can't fall/ No days off! No days off"!  Singles like" Lotus Flower Bomb" featuring Miguel, and "That Way" with Jeremih and Rick Ross will live on the radio over the next few months, giving the album mainstream success. This is critical to Wale since his first effort lacked that kind of  nationwide radio play.
Wale has his own sound, a trait taken for granted and not recognized in today's hip hop world. Although the album lacks the production that will make you bounce all day long, the beats do give a humble vibe. That vibe will make this album one to keep in rotation for a while, especially during the current "Boo" season. Who knows? After a listen or two, one might gain the ambition to conquer the attention deficit problem which  limits young fans from grasping the wittiness of Maybach Music's  A&R.
Follow us on Twitter: @HipHopEnqMag    
Comments
comments
Category: Album Review, Reviews