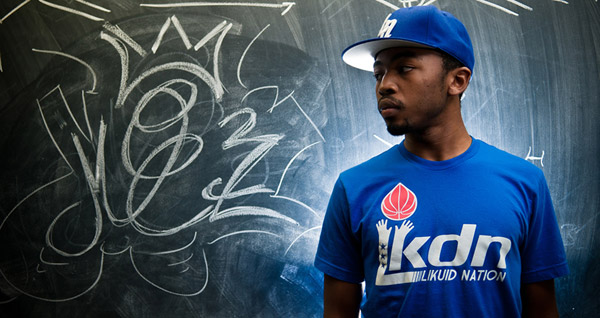 Born and raised on the Southside of Raleigh, NC, this 22-year old wise, metaphor deliverer, King Mez,  is a rap artist the hip hop world must pay attention to in 2013. From collaborations with producers and artists like J.Cole, Khrisis, Ski Beatz, and Omen, King Mez is building a rap empire of talent around himself and his entourage.
Mez has already dropped three heavy creative mixtapes during his brand new career recording his first project at just 19: The Parapelegics (2010) , The King's Khrisis (2011), and My Everlasting Zeal (2012). He has made appearances on BET, MTV, and many other high traffic hip hop networks as well as being featured in magazines like XXL and The Source. Now Hip Hop Enquirer got the chance to interview the young talented emcee on his present career. Check it out.
HHE: First off, let Hip Hop Enquirer Readers know who you are and where are you from?

Mez:  I go by the stage name, King Mez, 22 years old from Raleigh NC.
HHE: Now, you're a BET Music Matters Campaign artist, and I think I read that you were just nineteen when your recorded your first solo project? How long has it been since you've been pursuing music?
Mez: I started rap when I was 9, but of course I wasn't really doing it, but I've loved music my whole life. I've been rapping professionally… well pursuing professionally, definitely since around the age of 19. You know, that's when I started really putting my efforts into getting an internet following, sending music out to websites, Hip Hop Dx, DJBooth.net and stuff like that. They were the first people to start picking me up. It's definitely been a long road. Seems like it's been a long ass time (laughs). It seems like a long time to me 'from the outside looking in' these years…it's been a lot of work.
HHE: Absolutely, I'm sure. Okay, so what influenced you, because I'm sure you did start liking music for some reasons? Are there any artists you think that may have influenced your style, your art?
Mez: Yeah man, well both of my parents are from up top. My mom's from Baltimore and my dad is from Long Island or whatever. So, I've always had an east coast like feel to my music. When you listen to my music, before now I even sounded a little more east coast. I think that was just because I was just insinuating what I liked so much, like my 18/19 year old songs kind of had that type of style to it. Cause all I knew was Biggie. We never listened to Pac in my house. We never listened to Dr. Dre. We eventually listened to Dre, but that was after like…Ion know (laughs)…I was about to say the east coast west coast thing. It was all just like Rakim, EMPD, Biggie was probably the most influential artist to me as a child. I don't know… I remember listening to the "Ten Crack Commandments" on my first day of elementary school. (laughs). Like, you know, my parents were young too those were like the first thing I took to…(laughs)
HHE: Okay, okay, I feel you (laughs). You do have like an older-wiser…like you know what I'm saying kind of mature sound about yourself. You wouldn't think that you were 19 in some of these tracks out there on the web. Tell us about your mixtape "My Everlasting Zeal". Tell us what your title actually means?
Mez: I wanted this project to be a full spectrum of me as a person, my capabilities as an artist, you know, a lot of different things…but My Everlasting Zeal is actually what Mez stands for. It's the acronym of my name. I've always wanted to do a project with that name, because that's what my name stands for. I'm working on another project now, which is like a sequel to my first mixtape and umm I'm really excited about that. Hopefully we'll put that out like first quarter next year. I know how terrible I am about dates, I could tell you that…and it not come out (laughs)….you know it will come out eventually.
HHE: Okay, I gotcha (laugh). Now evidently you had a plan, you weren't out here just making music, hobby-wise. Explain what you had to do as a young artist to be successful.
Mez: Two things people have to understand, on August 2010 my moms passed away. Um she was like my only parent. My dad wasn't around at the time. It was just me and my younger brother. I was in college you know, going to NC A&T. I was in my sophomore year, I was going into my third year of school, and when she passed it just changed my life. My mom's – my best friend and everything. My aim essentially was to make her life beautiful. You know make her life easy, simple, so she wouldn't have to worry about working at the post office for 50 hours a week, this that and the third. You know, when she passed I didn't know what to do with myself. It was literally the worst day of my life. I had a radio interview that night at UNC Chapel Hill that had been previously scheduled. You know… I wasn't thinking about a radio interview, and my mom's passed, but you know…as the day went on, I think someone sent me a text asking me about it who didn't know my mom passed like 'Aye you still coming or whatever' ..I decided to just go to the interview-same day. I ended up not being able to make it because I had to pick up my aunt from the airport that night. But I made the choice to go, saying that, I'm saying, that is probably what sparked me to take everything 'really serious' from now on. Before, I was probably more serious than the average kid. I remember being in my dorm room when there were parties, I would be like ghost…niggas would have to drag me out to party (laughs). I was just always like 'nah, I gotta get in the DJbooth', you know what I'm saying my aim was to get on one of these websites, just generating a buzz, building a brand. I remember one of my dorms at the bottom had a computer lab, and I didn't have a burner, and nobody was in the computer lab doing work. It was like ten computers in the computer lab, and I got music in every computer burning CDs you know what I'm saying…duplicating, making like 400-500 over a course of a week. I mean this was the type of stuff I was thinking about in college.
HHE: So the "Monte Carlo" video that premiered on BET the week of December 13 did you film it in Raleigh N.C.?
Mez: Yea parts of it.
HHE: It showed me a different side of you, it was fun, and it was different. I told people before that your wisdom-level in your lyrics sort of remind me of Nas and in this video you actually look like him (laughs). Tell us the concept behind the video and what made you choose this song to present a visual to and to be one of the first tracks from the mixtape.
Mez: (laughs) Well, the song has nothing to do with the car "Monte Carlo"  at all. I just for whatever reason, when I wrote it I said this was the kind of music someone would listen to in a Monte Carlo …you know (laughs) and being from Raleigh, NC of course you know…like…the old school…Chevys and Impalas and you know..N*ggas with the Cheerio cars… Fruit Loops or whatever….. I remember one year going to the Apple Chill …I did a song about the Apple Chill..I was like…maybe 18 …I did a song with Thee Tom Hardy called "No Where to Go"….if you ever look that up on Youtube it's a song about me going to the Apple Chill, because it was me and my best friends, and our older brothers. We all chilling where we always chill in the neighborhood and they asked us if we wanted to go to the Apple Chill and I didn't even know what it was…but like next thing we know..It was like ten cars pull up like one by one…like Caprices, old Caprices, Impalas. I saw somebody with a Range Rover and they were all friends and we all drove together in this line to Chapel Hill for the Apple Chill. That was one of the most memorable days of my life, and that was around the time I guess I was really started having a love for old school cars and stuff. So, this is kind of like an ode to that…or I guess a salute or respect for America made cars….and stuff like that… One of my friends that I've known since elementary school…middle and high school…he actually had one [Monte Carlo] . So we just came home and shot it. We tried to shoot it in Maryland first. We were actually renting this car from this older guy. He had a nice one. He had like an 80's Monte Carlo which isn't very different. It was nice as well. We had that car, we had the models and we were saying we were going to shoot the video. A lot of my friends came out. We were thinking about shooting it anyways, and the man said nah it's a classic car, my car ain't going out in the rain. So, that's when I talked to my homie, he had one too, and we shot it. I wanted to respond too because my music, and me as a person. I always come off very serious, I have a very serious connotation about myself, about my music, I just wanted to change it up, and I'm glad people had fun watching.
HHE: Now, the producers on My Everlasting Zeal. I follow you and I see you giving a lot of credit to those behind the sound of your projects. Give us some names of producers that we need to listen out for.
Mez: Definitely, Commissioner Gordon, is like..one of my best friends . He's kinda like what 40 is to Drake, to me…He really helps me procreate my style and um we just…ion know we just work very well together. Soundtrack, who did a lot for Lupe. He did basically the whole Food n Liquor Food and Liquor changed my life. That's one of my favorite albums. That's when I stopped being silly and just got on everything about life. I was like 16 when that came out in 2006. So that's why I reached out to Soundtrack. Prolific, he did "Pressure" for Lupe and Jay Z …J. Cole..I met him in February, he heard my music and just sent me a text out the blue one night and was like "Hey its J. Cole I heard your music in the studio, and I want to meet you. That was one of the craziest nights I've ever had…. I was such a big, still am a big fan. He's become like a big brother of mine, and I'm with him a lot. Then, myself I produced on it to. I'm really really into the best production.
HHE: Wow, so many 22-year old men don't come up with such rock hard plans as you did. So, I applaud you. I'm the only girl, I have four brothers, and I love them to death, but I'm sure that you could give a lot of advice to the young boys 18-25 that really are trying to make it, rapper musician or whatever they're trying to become.
 Mez: Sacrifice has so much to do with it…it's just so essential. We all feel like we're gone miss out. Every party that comes along. 'Yo this the craziest one… it's never gone be one like this' – when it's always gonna be something like it. It's always something that keeps us from what we want to do. We feel like it's important at the time, but it's really not.  If I could tell anyone, I'd tell'em that time is something you won't ever get back. You don't want to be trying to figure it out, you know years down the line. Like, yo I was trying to figure it out. Money you will, even if you invest in yourself, you blow up, whatever the case may be. It's out there numerous times. Everything can come back except time. That's what I would tell everybody just don't waste your time.
HHE: Now 2013 will be here in just a few days, everyone thought that the world was going to end in a few days, but…(laugh). What can we expect from King Mez in 2013?
Mez: Like honestly, my next year will make my last year look like I was just starting out. The way we….I'm telling you we set it up crazy. I got new management recently like last week, to add on to the management I already have. Heather Widener is the manager I had before. She runs a blog called Herfection.com, and its been a pretty well renowned blog for a while. She's from Winston Salem actually, but she moved to NY years ago. She was like 26, we had been working together these past years. She added someone else to the team now, I definitely can't disclose. My manager now is also the manager of an artist on G.O.O.D. music. Not somebody that's in the cut, like a front man. I'm excited. I can't really speak on it, like you know….I have a really good manager. So, I'm excited about going into the New Year with that. I got my first endorsement deal, I'm working with…I can't disclose everything I've been doing. I'm just excited man. I thank God a lot of things are coming this year.
HHE: Now just one fun question (laughs). What's one thing that the rap industry can leave in the 2012 and not take into 2013?
Mez: Ah man that's a funny question. It's so much I'd like to say. At the same time, I swear I be trying to respect everyone. At the same time I have my true prospective on things. You know what I think they can leave? They can leave the idea of trying to make an artist famous off one song. If you see a n*gga come out with a song and it does world. Or whatever the case may be, that's great. Or whoever comes out with a song and it does well on the internet, Even if it's like, if it's a really good song, and people listen to an artist and it sounds like the artist can have longevity, that's one thing, but record labels so often miss out on money. They're signing those artists who are popping "right now" and the problem is "Right now"…doesn't transcend time. It's not going to be tomorrow, it's not going to be next year. I think what we should leave in 2012 is living for the moment. People need to think longevity. Jay Z signed artists that will have long careers. They're not these record labels that sign artists with one song….like oh my God you know…I'm not gone call no names…but a lot of artists are like that right now…..so you know…I feel like we can leave that thinking for the moment in 2012.
HHE: There you have it. A one-on-one exclusive interview with an artist only on Hip Hop Enquirer. We all must look out for in 2013 @KingMez. Follow him on twitter @KingMez and visit kingmez.com
MIXTAPE "MY EVER LASTING ZEAL" – KING MEZ
Download "My Everlasting Zeal" here, and watch the "Monte Carlo" video by King Mez below:
Hip Hop Enquirer Magazine | Follow us @hiphopenquirer
Comments
comments
Category: Interviews, Latest Hip Hop News, Media Gallery, One on One