HHE sits down to talk "independent" artist grind with Shabere from N.C.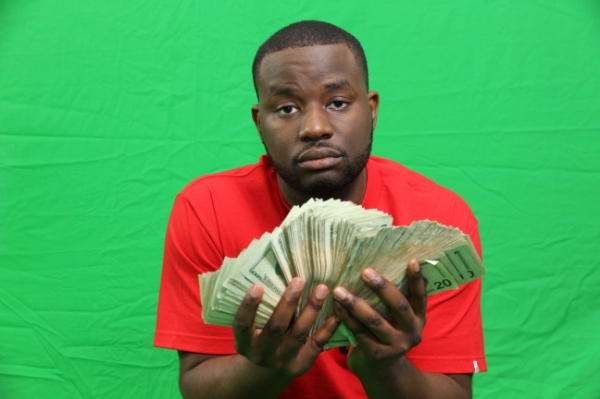 Shabere, N.C. indpendent artist, is very well known for his Shabere is Here 1 and Shabere is Here 2 projects, hosted by highly anticipated DJ's like the Trapoholics. Coming from a small town like Smithfield, N.C., artists like Shabere, have to think of unique tactics in order to be heard and seen in the industy. HHE sits down to discuss the "independent artist" grind with new artist Shabere, as he drops jewels of productivity and hustle.
HHE: Okay first of all tell Hip Hop Enquirer fans who you are and where you're from
Shabere: I'm from down in Smithfield, Johnson County, a small place, small town in N.C. laughs.
HHE: Tell people how it is being in such a rural city, and trying to be artist. Do you feel like you're at disadvantage, in becoming an artist? Is it pretty easy what's the deal?
Shabere: The main thing with me, that makes it easy for me to move, is just my mindset. North Carolina as a whole is not hip to a whole lot of everything; especially with the music tip. I go to the A (Altanta) at least once and twice every month and I link with a lot of people on the regular. I can see from what's in comparison from NC vs Atlanta. They might be hip to what's hot when Atlanta says so, but I'm right in the mix of everything. I see what's hot before it gets here. I've been linked up with a lot of people making moves in the A. Meeting them there, and meeting them in Atlanta are two different things. Up here you got to pay to see them, you ain't gone see them without paying. It's just way different.
HHE: True, people are so quick to say Raleigh isn't Atlanta. This is about region. At the end of the day artists may be influenced by the sound. I definitely feel you.
Shabere: People make it harder than what it is all the time. Everybody wants to hop, jump, and move to Atlanta. A lot of times them people got a lot of money or investors behind them. A lot of times people have a lot of money, or investors behind them. It's a lot of things you have to do in order to get noticed in Atlanta.
HHE: Yeah, exactly you're right. So how valuable is internet promoting for you?
Shabere: It's highly important. North Carolina gets looked over anyways. It's a great way for me to show people what we have going on before they come here to see it themselves. It can either make or break people though. I feel like it's helping me more. I don't have a million followers but I do have my followers where I can share my music. Without the internet, man a lot of people would be in trouble.
HHE: When it comes to the business part of the music industry? You basically have your internet promotion down. It's obvious that you invest in music videos, quality, and graphic visuals. A lot think rapping is just "skill", and don't bother learning the actual business. Do you sharpen your music industry business knowledge on the regular or is it pretty much easy for you?
Shabere: I went to school for business. From day one I've always wanted to have more than what I came up with. I've always had a hunger for "business" since I was real young. I could always see what I needed to do to get money. I always kept my eyes open to people like Lil Boosie, Freddie Gibbs, Gucci, Juice, etc. I kept my eyes on people who were already eating on the independent side before they got on. I'm trying to position myself to be lucrative. I'm trying to be in a position to eat. I've always kept my mind on people like that, and what they did. I get a little bit of game from them and place my own spin on it. I want to make 100K a year in music, independent wise.
HHE: Now you have a track off of Shabere is Here part 2, the second portion of your 3 series mixtape, called "Bernie Madoff". Some people may be familiar with who he is, but let people know what that single is about. Madoff was a part of a huge scandal of NC. Explain your reasoning for creating this track.
Shabere: I just had an idea and ran with it; had the hook and everything. We did the track the same night. A lot of people have been rocking with it. We've been getting a good response from it. That situation was crazy. I don't agree with what he did, people do that type of sh*t every day. I keep it 1000 and do good business, but I was always like 'God, this dude…went to the next level'. I wouldn't have done it, but hey, he did what he wanted to do.
HHE: Let's see, you've worked with some producers on your mixtapes. I also noticed that you use an array of producers, especially out of N.C. I think N.C. is very prized when it comes to producers. I don't think people understand that. It's really true. I heard you mention MetroBoomin, but name the producers on the first two mixtapes that you've worked with.
Shabere: Well, yeah, you know the majority of my tracks were produced by Metroboomin. I worked with RuGotti, and I plan on linking up with Sunrize soon. I've had some talk with J. Manifest. I've done like seven songs with Sequence. He produced two of those. He's from Carolina. I've been reaching out to a lot of people, but I'm not on any Hollywood anything. I'mma f*ck with whose hot. I want to work with more.
HHE: Alright now, tell Hip Hop Enquirer fans what you hope artists leave in 2012 and don't bring into 2013?
Shabere: The cookie-cutter stuff. Like people do exactly what Future do, or 2 Chainz do. They did their own thing. That's why they're on. A lot of people see that and copy it to the T, instead of being themselves. I hope people leave the copy-cat stuff and do them.
HHE: Well, there you have it. You heard it from underground artist, Shabere out of NC. Listen and download his latest track "I'm On It" from Shabere is Here 3, hosted by DJ Folk and the Trapoholics.
Hip Hop Enquirer Magazine | Follow us @hiphopenquirer
Comments
comments
Category: Interviews, Latest Hip Hop News, Media Gallery, One on One