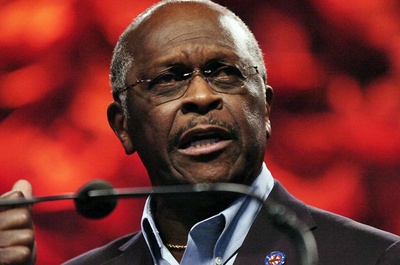 Republican candidate nominee, Herman Cain, is still fighting the tides against claims of sexual harassment that have set the political scene on fire. Herman Cain was accused  of sexual harassment by three different women while working for the National Restaurant Association in the early 1990s. Moreover,  high profile attorney Gloria Allred represented a fourth accuser, Sharon Bialek, at a news conference in New York today. Bialek is the first victim to speak out and detail the actual accounts of Herman Cain's allegations.
Cain has a lot of momentum behind his GOP campaign, as he is also the hot topic for every major news outlet. Cain is known for his 9-9-9 tax that would install a 9% flat rate tax for corporations, individuals, and national sales tax. Cain seems like an exemplary Republican candidate, being that he has climbed his way through the corporate ladder twice.
More importantly, Herman Cain is denying these sexual harassment claims and refuses to speak about the topic. In defense, Cain's Super Political Action Committee, the "9-9-9 Fund", is calling this a "High Tech Lynching". Hi-Tech Lynching was coined by Clarence Thomas when he went through public sexual harassment accusations. The Super PAC is mass launching a short video that shows snippets of A-List conservatives blasting the media for using black racial stereotypes to harm the reputation of  black men.
[kkytv id="CSRONjYVvAQ" width="464″]
Follow us on Twitter: @HipHopEnqMag
Comments
comments
Category: Politics