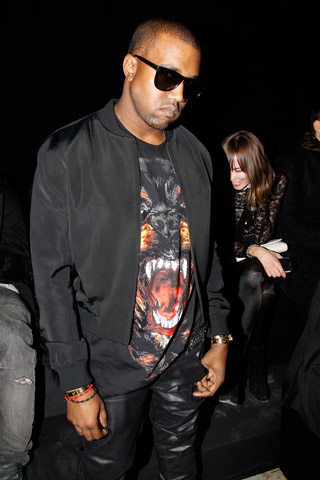 In the 90s, The Notorious "Biggie" B.I.G  sold the famous label Versace to the thriving market of the Hip-Hop community.  Now in the 21st century, Hip Hop will sell Givenchy. High Fashion has always been a way for rappers and other artists to showcase their "baller" status.  Music and Fashion will forever go hand in hand, being that they both stem from the art of cultural expression.
The latest or newest trend in the hip hop community may just be Givenchy's Fall '11 Ready-To-Wear Rottweiler and Panther Motifs designed by Riccardo Tisci. Although fashion's street scene was bombarded with Givenchy's animal prints during Fashion Week in September, the label has just now finally touched the urban sphere of  hip hop culture. Ye and Rihanna have been recently seen wearing the Givenchy's Menswear Rottweiler, while Amber Rose was spotted in the Givenchy's Panther printed bomber jacket from the women's collection. Unlike Tommy Hilfiger who made negative comments towards blacks who wore his designs, the designer Riccardo Tisci, has vocally embraced his love of hip hop. In an interview, he named Nicki Minaj, Lil' Kim, Ciara, and Missy Elliot as some of his favorite artists.
Coincidentally at the same time, many rappers have been quoting high fashion labels in their lyrics as well, including labels such as Michael Kors, Louis V, and Hermès. Let's not also forget about Nicki Minaj's performance at the Victoria Secret's Fashion Show and her front row fashion week appearance alongside Anna Wintour, the editor-in-chief of Vogue Magazine. Hopefully, this is a sign of cultural barriers being lifted because ultimately everything is connected. Music empowers Fashion and together they transform culture.
 Follow us on Twitter: @HipHopEnqMag
Comments
comments
Category: Hip Hop Fashion