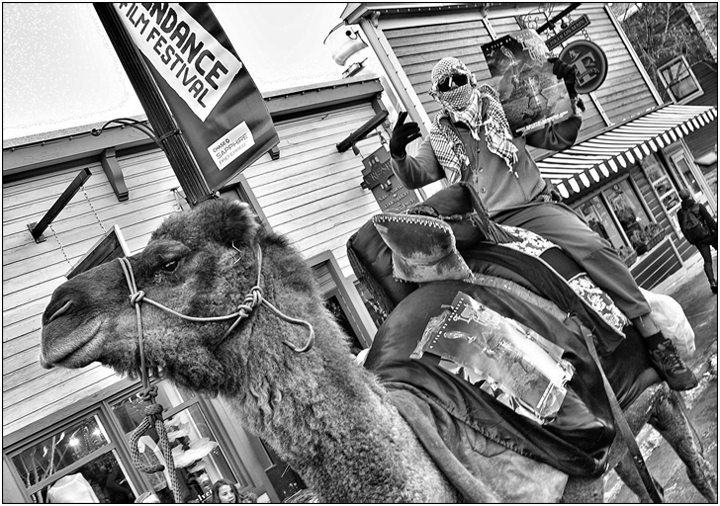 Last week, Hollywood insiders and wannabe insiders crowded the small town of Park City, Utah for the Sundance Film Festival. Many films and filmmakers got their big breaks, not in Hollywood, but right here in Park City where the indie film is king.
Over the last few years hip hop has had monumental moments at the legendary festival. Last year, Ice T-'s "Art of Rap," drew critical acclaim, while Michael Rapaport's documentary about A Tribe Called Quest, "Beats Rhymes & Life: The Travels Of A Tribe Called Quest" also garnered high marks from the powers that be. This year, Next, CEO of Amalgam Digital took hip hop to a new level at Sundance. His film, "Egypt Through The Glass Shop" was his first big step into directing and producing a film. The movie takes a look into the revolution that took place in Egypt 2 years ago, and more importantly, how that revolution changed people in the country.
Hip Hop Enquirer spoke with Next about his new film, the accomplishment of having a movie shown at Sundance and what it was like to ride a camel through Park City Utah. Check out the video below.
[kkytv id="hw-fQCS5Iek"]
HHHE: So What made you want to step out of the music business and jump into film?
Next: I don't think of it in terms of stepping out of music but instead expanding on that existing platform, by venturing into the film. I've been in the music industry for over fifteen years, in many facets, and deeply rooted in the Hip Hop culture even longer. But by expanding into the world of film it allows me to be an artist again. I can channel my energy and express myself creatively as opposed to sitting behind the desk dealing solely with executive duties. Aside from that personal benefit, I wanted to create more value for the artists I represent. By breaking into the film industry, I can create new avenues from within and utilize that to open doors previously unopened for the artists I represent. They are my true inspiration.
HHE: What is "Egypt Through The Glass Shop" about? What made you want to tackle this subject?
Next: The film follows the journey of the young entrepreneur and talented glass blower who set up a shop in Cairo and teaches the Egyptian people new techniques by providing an update to the original method of glass blowing. Before long, he finds himself trapped in the country during the civil unrest that sparked the Arab Spring. While a block away from Tahrir square, he gets hit with tear gas. His business partner  suffers aN almost fatal wound to the head from a rock thrown by an Egyptian police officer and the shop quickly falls into disarray. The glass blower finds himself displaced from the enterprise. A year later, he returns to reclaim his life's work and I help him reestablish his glass business in Egypt.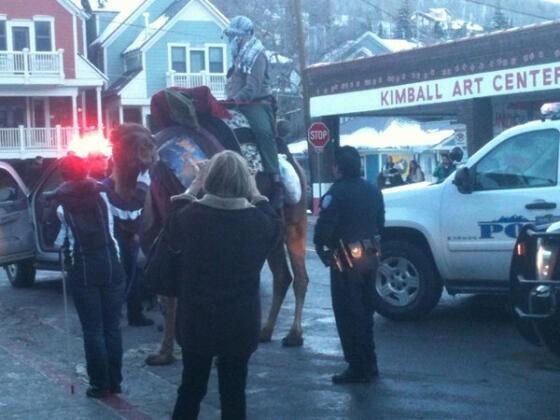 HHE: What made you want to jump on such a controversial topic?
Next: I wanted to tackle this subject because I believe it resonates with a lot of young people and talented artists who get into business and face obstacles. It's a first-hand account from the front lines and captures the first punch thrown by the Egyptian Government onto its own people – unarmed civilians during a peaceful protest. That's not something we get to experience from main stream media. It's compelling, it's visceral, and it's a story of triumph! The film is not just an alternative look at the revolution of a nation in turmoil that provided crucial inspiration for the Occupy movement here in the States, but the revolution of an entire cultural art form – being glass blowing, which originate from those parts of the world.
HHE: What is your Sundance experience like so far?
Next: This is my first time attending the Sundance Film Festival. It's a learning experience. I learned not to ride my camel into town while promoting the film. It doesn't fair well and may just make the front page of the Salt Lake City Tribune and Fox News 13 but Sundance is supposed to be about breaking away from the mainstream, breaking away from the establishment, Sundance is about American independence, and you couldn't have American independence without revolution – and this is a movie about revolution.
HHE: I saw the video! Speak to me about riding the camel and your run-in with the local police.
Next: Sundance isn't supposed to be an institution about people with money, fame and notoriety. It's supposed to be about providing a platform to discover and highlight the creative, the avant garde, the fringe, next level filmmakers. I was artfully demonstrating that with my Egyptian revolution-themed promotional campaign by riding into town on a camel. I didn't expect to be pulled over, issued a citation, kicked out of the festival, and escorted out of Park City by the police. I didn't hurt anyone or do anything of destructive nature. I did however, take notice a lot of smiles, laughter, and an overall sense of excitement from the festival goers who applauded my groundbreaking approach to promoting the film. Perhaps, I pissed some people off too but it was innovative and embodied the spirit of independence. After all, isn't that what Sundance is all about?
HHE: What's next for you as a filmmaker?
Next: Part of attending this Sundance Film Festival was to celebrate the launch of my new film production company "Unusual Accomplishment" and we are premiering the trailer for the NEXT film that I'm releasing entitled "Harvest Season: a HIGHER level of consciousness", which puts a strong focus on horticulture, Jamaica, and the Northern California grower scene, as well as the legal, political, historic and spiritual aspects of the Cannabis plant. We also explore its medical properties and the plants processed oil being a cure for cancer. Essentially, it's an all-encompassing on weed. In addition to the educational motif it will feature clever cinematography and an original sound score syncopated to the film's visual rhythms. From there I'm taking the master audio track and exporting to 180 gram vinyl record and recorded back in to give it a real audiophile experience. Amalgam Digital artist Dutch Rebelle has a video coming for her track "N.A.S. (Not A Stoner)" that I'm directing to support the film. I have several other film projects I'm working on as well, all at various stages including my third film, the story of the Annunaki taken directly from ancient Sumerian texts.
[kkytv id="k6wOIplEHpw"]
HHE: What's next for Amalgam Digital?
Next:  Amalgam Digital first launched as Hip Hop's first genre specific digital store + record label platform but as the industry changed, we began to change with. The company has been morphing into more of an artist development management company and using its label brand, relationships, and resources to benefit the artists we manage. We have the #ADGang movement rapidly picking up steam and moving in a conscious direction. Chuuwee is prepping his debut album "3rd Coastin" where he begins to introduce his new sub-genre, what he calls "revolutionary trap music". Dutch Rebelle will break out with her debut album "Vodou" which is all about energy, and aims to crush the negative stereotypes of the word, incorporates themes from the Haitian Revolution, and picks up where Wyclef's "Carnival" left off sonically. We also recently brought Dillon Cooper into the fold, who is a multi-talented emcee that also plays guitar and piano. He is about to release his debut mixtape "Cozmik" on Amalgam Digital. Providing a platform and getting them on the road for a national tour and meshing it with the film screenings to create an immersing experience. That's the direction Amalgam is headed in. We will also be launching a brand new interactive website in the near future.
Hip Hop Enquirer Magazine|Follow us on twitter @hiphopenquirer
Comments
comments
Category: Feature, Latest Hip Hop News, Media Gallery