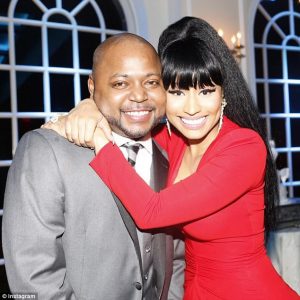 Nicki Minaj's brother Jelani Maraj has been convicted of raping his 11-year-old stepdaughter sentencing him to 25 years to life in prison.
Jelani was arrested in December 2015 in Nassau County, he was accused of raping a child younger than 13 several times between April and November of 2015. The young girl was the daughter of Jacqueline Robinson, Jelani's ex-wife whom he married back August of 2015.
Evidence used against the defendant helped a jury find Jelani Maraj guilty of predatory sexual assault against a child, sexual conduct against a child, felony sexual conduct against a child under 13 years old and endangering the welfare of a child.
Assistant District Attorney Emma Slane and defense attorney David Schwartz spent 3 weeks presenting evidence, testimonies, and witnesses in front of a Nassau County Courtroom. The jury deliberated over two days before returning its guilty verdict.
The charges carry the potential for 25 years to life in prison  Maraj, 38, was led away in handcuffs after bail was revoked following his conviction. His sentencing date is set for December 14th.
US newspapers reported that Jacqueline's son who is now 10 years old testified in detail that he saw Maraj having sex with his sister in their basement bedroom in 2015.
The boy, who was 8 at the time, said the victim's pants were "around her ankles. I saw his underwear close to his knees," talking about Maraj. Prosecutors said Maraj had sex with the young girl as often as four times a week. A doctor also testified during the trial that the girl's medical records strongly suggest she was having sex. Prosecutors said Maraj's DNA was found on a pair of the girl's pajama pants.
How will the reality of Jelani's conviction affect the superstar rapper Nicki Minaj? It is no secret that Minaj was very close to her brother. She mentions him in her song "All Things Go," from her album The Pinkprint, The lyrics in the song read:
My child with Aaron, would've have been sixteen, any minute. So in some ways I feel like 'Caiah, is the both of them / It's like he's 'Caiah's little angel, looking over him / And I know Jelani will always love me, and I'll always love him / And I'm just his little sister not Nicki Minaj when I'm around him.
It has been argued by the defense that Jacqueline Robinson has fabricated this entire story in order to extort money from the rap star. "It's all about money and it's all about revenge," he told the jury.
"Why would [Robinson] lie and force her children to lie? I can give you 25 million reasons why." "Jackie became obsessed with Nicki Minaj — getting her hands on her money," the lawyer added "An evil Jackie targeted him," the lawyer said, pointing to Maraj, "trying to get him to marry her, and then just four months after they were married, we have this.", the defense lawyer told jurors.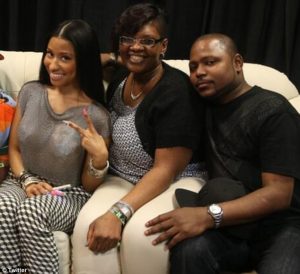 In August 2015, Minaj paid over $30,000, for her brother's wedding to Jacqueline Robinson, at Coral Houses in Baldwin, New York.
 Jaqueline Robinson denied that the accusations were made up so she could extort money from Nicki Minaj. James R. Ray III, a civil attorney who briefly represented  Robinson, testified that he did demand $25 million from Maraj after he had already been arrested to settle a potential lawsuit, but he said the girl's mother was unaware of the demand.
"She was never involved as far as what we did,"
he testified. The woman later fired him as her attorney.
Maraj did not seem to react when the verdict was read in a Nassau County courtroom. His lawyer said he will appeal. 
, "We have 50 appealable issues. The amount of evidence we have that wasn't allowed in this case is unbelievable. I've never seen anything like it. I am shocked." Donald Schwartz says.
Minaj has stuck with her older brother, posting his $100,000 bond when he was busted in December 2015. We know she will stand by his side in the next few weeks as he awaits sentencing. 
Comments
comments
Category: Archives, Breaking News, Crime Stories, Feature, Latest Hip Hop News, Legal, Special, Talk of the Town