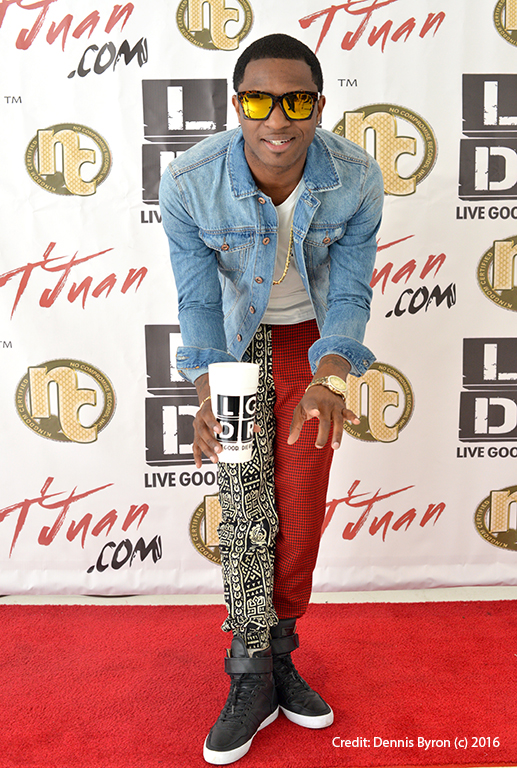 We recently caught up with Jacksonville recording artist T'Juan aka "The Mystery Kid," at a listening session in Atlanta's Soul Asylum Recording studios where we spoke about his controversial yet released EP entitled "The New Kanye." We receive countless invites to check out new artists but it was something about the label's pitch that made this particular more intriguing. Here we have an artists that has already worked with some notable producers and was also co-signed by one of the top DJ's in the South East region Bigga Rankin, we knew there had to be more to this emerging artist. Upon arriving at at the studio, we were introduced to his marketing team and then we met with Reginald Estell, the CEO of No Compromise Records, the label T'Juan is signed with. Estell who has been an attorney for the past 27 years decided to make an investment in this young man so why wouldn't we not want to see what he was about to bring to the table?
There were about 20 plus people who had already arrived by the time we stepped in the building however we knew instantly who T'Juan was because of how animated he was at first glance. With production by super producer Zaytovan and London on The Track, it is clear "The Wiz Kid" is taking his career very serious.
In his debut release from the yet to be released EP "The New Kanye", T'Juan a/k/a "The Mystery Kid," links up with the legendary Project Pat for his smash single "SAVE HER". This hit new single comes off with a smooth R&B approach and is backed with a classic hip hop vibe, made possible by super producer, Phats Traxx. "SAVE HER" is the perfect spin off of Project Pat's 2001 original hit, "Don't Save Her" and T'Juan's ability to sing and rap adds a refreshing vibe sure to aid in reviving the state of R&B!
"While sitting in a meeting with a very popular and influential Dj, I went through my catalog and realized that I have an array of music that didn't sound like anyone else. Titling the EP, 'The New Kanye,' is my way of paying homage to one of the greatest musicians of my time as well as giving the world a glimpse into what they can expect from me."
Comments
comments
Category: Interviews, Latest Hip Hop News, Media Gallery, One on One, Videos