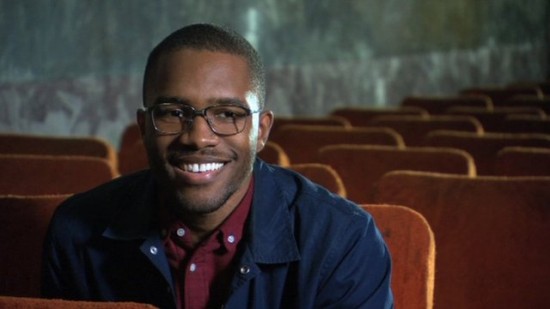 The success derived from Frank Ocean's Channel Orange debut was just recently talked about in an interview with the Odd Future artist. He chatted with the UK's Guardian Magazine about his LP as well as why if some unfortunate scenario happened, the album might be his last.
Ocean just recently told Guardian Magazine of the U.K.:
Some people focus more on sonics. Some people focus more on story. I focus on both sonics and story, but music sometimes, just music itself, can turn into more of a math problem. I guess everything in life is a math problem, but it can be more about an empirical route to getting the symmetry that you want, and this vibe, sonically  But storytelling's a different thing. Like I said, it's the more interesting part about making music for me, or making albums and songs and stuff.  So much so that I might not make another album. I might just write a novel next. I don't know!
It's not unlike the talented yet word-flighty Frank Ocean to toss in a few unforgiving cases as well. He also threw in some death factors that might even force him to quit music for good.
It could be. It could be it, if I flew next week and my plane crashed! It could be it if somebody walked along and shot me for my bracelet or something. It could always be it. The idea of recognizing your strengths and using them in as versatile a way as you can is cool to me. I don't ever want to be caught up in a system of thinking I can do one thing cos that's just … that's just telling yourself a lie. But I do like to sing. I play piano every day. I enjoy that. (Guardian)
Cited from the dope blogger KarenCivil, Frank Ocean jumped out in October on Twitter with a shocking and blatant tweet.
Known for his unique Text Edit posts and vibrant use of Tumblr, Frank Ocean took to his Twitter to say one thing and one thing only…. "YEA, I QUIT." Just posted moments ago, the short and direct phrase was posted in a text post with much left to the imagination to figure out. Whether he means music, it is quite unclear but we can only hope that he doesn't mean music. Either way we support his decisions 100%. (Karen Civil)
Whether fans take this news seriously or not, Frank Ocean's music actually belongs out here. We honestly can't afford to lose such sweet and harmonizing lyrics and production in our musical selection. No way. Frank Ocean, stay put. What do you all think?
Check out this BBC Sound of 2012 interview with Mr. Ocean on his music:
Hip Hop Enquirer Magazine | Follow us @hiphopenquirer
Comments
comments
Category: Interviews, Latest Hip Hop News, Media Gallery, Talk of the Town