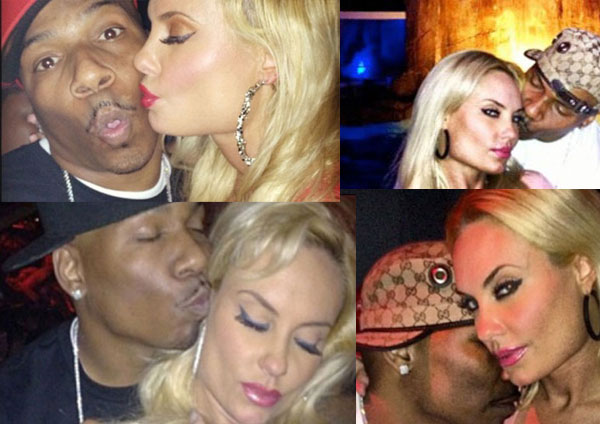 The term Pump Faking is used when a basketball player pretends to shoot a certain way only to go a different direction to throw off his opponent and it looks like rapper AP 9 has mastered the art of "pump faking". His latest claims that he has naked pictures of Ice T's wife Coco is unbelievable and we doubt @Cocosworld would be so dumb as to throw her marriage away for one night of pleasure from a person who could do NOTHING for her career.
After provocative pics recently surfaced of Coco snuggling up with AP 9, husband and former OG rapper, Ice T took to Twitter saying things like "She's made me look.. And feel like shit" and "Daily Game: Trust no one". Following Ice T's Twitter meltdown, Coco gave her two cents on the situation saying that AP 9 claimed to be a friend of Ice's and that the pics were harmless tweeting: "Ice is right, the pics I took with this man were in poor taste & I disrespected my husband however the pics were the only thing that happened".
Not so fast though, because now the wannabe rapper involved in the situation is claiming that he has nude pics of Coco! A source told RadarOnline that the relationship between Coco and AP 9 might not be as innocent as she's trying to make it seem. Here's what the source said:
AP.9 has been bragging that he has photos of Coco with him in a private room in Vegas, and that in some of them she's on a bed, totally naked! "He's been putting feelers out to see if people want to buy the pictures and he's claiming they're really salacious and that a LOT more happened with Coco than just them posing in a night club.
So rapper AP 9 needs to put up or shut the heck up because no one is interested in listening to a wannabe rapper that launches his career off the back of someone else's woman. No pun intended!
Follow us on Twitter:@HipHopEnquirer
Comments
comments
Category: Latest Hip Hop News, Media Gallery, Talk of the Town