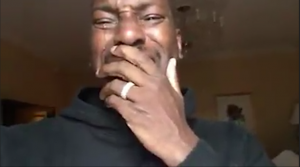 Word is out that Tyrese Gibson has lied about Will & Jada Smith giving him 5 million dollars to help pay his legal fees for his ongoing child custody case.
A close family source told  TMZ that the couple did not give Tyrese any money, but they are concerned about his mental health.
Tyrese took to Instagram last week after posting a very emotional video of him crying about not being able to see his daughter and his financial woes. He later posted an IG post with the following comment:
"When we show UP for each other, there's nothing that can't be done! Jada Pinkett-Smith and my brother Will Smith just sent us 5 million to help keep us afloat. You guys asked to get off and stay off the internet now that my daughter's legal fees will be paid!" 
Tyrese's bizarre behavior has left many of us puzzled especially after he posted another video of him crying in his kitchen. Watch Below
It is no secret that Tyrese may be suffering from a mental health problem sources revealed that during his child custody proceedings the judge presiding over the case cleared the courtroom so Tyrese's doctor could explain his mental disorder in private.
So are these latest stunts results from a mentally ill Tyrese? Or is this a genius marketing scheme to get us all set up for his next project? Who knows, but what we do know is that Tyrese is falling off big time. And lying on 2 of the most powerful people in the movie industry is not a wise idea either.
Comments
comments
Category: Media Gallery