Celebs: they're just like us! And just like the rest of us, sometimes their mouths can get them into a whole lotta trouble. More often than not, celebrities have very little to say of any value. But then there are those rare occasions when what they let fall out of their pie-holes becomes a catch-phrase phenomenon!
Television "personality" ( I use that term loosely) Nene Leakes is the latest "celeb" (ditto) to put a t-shirt where her mouth is, or vice-versa. On the first episode of the latest season of Bravo's hit series the Real Housewives of Atlanta during a heated debate about finances (the irony, I know) with fellow castmate Sheree Whitfield, Nene parted her oversized, lip gloss laden lips to let Sheree and the millions of viewers at home know that thanks to "cashing Trump checks" she is indeed a "very rich B*tch!"  Not surprisingly, Nene was able to turn blatantly exaggerated statement into gold; or chrystals rather. The above photo is of her t-shirt emblazoned with Swarovski chrystals selling for roughly $150.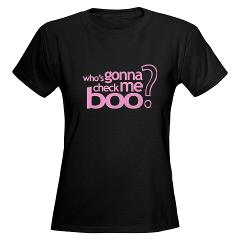 Also of RHOA fame and certainly no stranger to financial controversy, Sheree Whitfield let her nut sack hang low in the office of her then party planner when he told her that somebody needed to put her in check. The response that the She by Sheree designer gave back was priceless. The irony is that the shirts were a better hit than the make-shift fashion label she tried to create.
Chad "OchoCinco" Johnson's beard reality star side piece Evelyn Lozada had a few words for Tammy Roman once it was revealed that Eve parted her legs for Tammy's then husband Kenny Anderson. The now hit catch-phrase exploded on national television with an all out brawl between the two Basketball Wife stars.
In order to get voters involved in the 2004 election, music mogul P. Diddy did his part by giving the public only two options. "Vote or Die" was a huge hit amongst celebs and the general public alike. The t-shirts were sold exclusively on Diddy's clothing label Sean John website.
After the entire world was swept with the Occupy Wall Street movement declaring a war between the 1% who own the wealth and the other 99% who want it, Jay-Z's clothing company Rocawear released a limited edition t-shirt collection with the coined term :Occupy All Streets." However, some of the best laid plans often go awry. Both Jigga and Rocawear were under public scrutiny once it was discovered that the protesters who were not only being exploited but none of the proceeds would go towards them. The shirts which I find extremely moving and clever if not poorly executed were promptly removed from Rocawear's website. However, after visting the site myself I found that the shirts are indeed back up for sale.
Follow us on Twitter! @HipHopEnqMag   @HHEFashions
Category: Hip Hop Fashion